Professional photography has been reaching new heights in recent years as it has gained popularity worldwide. A massive industry has grown based around it, and it's growing with each passing day.
A study carried out last year by industry experts found that the worldwide digital photography market was somewhere around 45 billion USD. This number is predicted to increase in the coming years, and it's estimated to be over 55 billion USD by the time we reach the new decade.
Research from last year found commercial photography to account for 30% of the total photography market alone around the world. Since 2017, the industry is experiencing a steady growth rate of 1.7% on average each year. This rate is increasing every year, which shows the potential of this industry and the opportunities in this industry.
The growth in the photography industry has made it a very lucrative profession for individuals. This has increased the number of people that depends on this industry for their livelihood. The growing number of professional photographers has upped the competition to provide quality photography to clients to make an impact.
A good photographer must have some tricks and tips up their sleeves along with their photography skills to stand out from the rest. This will draw attention to their potential clients and also increase their exposure which will, in return, give them more work.
Why Do I Need to Know About Background Removal?
Suppose you are a professional photographer who deals with all sorts of clients daily. One day, a client of yours comes to you and asks you to take pictures of some objects that they want to use for marketing. So like always, you take photos of the object they have given you and show them to your client.
Your client is happy with the photos you've clicked but is not fully satisfied with the image's background. They want you to change the photo's background and put it on their preferred background. What should you do in such situations? You can't just click the photos again! Don't you worry! This article has the answer to all your problems.
The first thing you need to do is to remove the background of the object from the image. In this article, I'll be discussing some of the best tools you can use to remove the background so that you can put a new background of your choice on your photo.
Here, I'll be talking about both free and paid tools. I'll also go through the strengths and weaknesses of these tools and make a comparative discussion to help with your choice.
Manual Background Remover vs Automatic Background Remover
In the manual background removal process, you select the object in the photo manually using different tools. For example, if you are working in Photoshop, you can do this using Lasso Tool or Pen Tool.
After you've selected your object, you erase everything except the object, and you are good to go. You can save a copy of the remaining image in PNG form and use it later whenever you need.
On the other hand, in an automated background remover, the whole removal process of the background from the image is performed with the use of technology, especially AI. It does not require your manual selection of the photo object. Instead, it only requires you to upload the photo, and it will automatically remove the background in a matter of seconds.
When you are not sure about deciding whether to outsource background removal to manual services or use an automatic background remover, you have to consider some key factors such as:
Both have advantages and disadvantages, so we suggest you continue reading to learn about what they can offer.
1. Quality
The reason why some clients prefer the same individual or company to do the edits of their photos again and again. This is mainly due to the fact that they are able to maintain the output and the quality of their results as necessary. Manual background removal services would provide many services aside from just background removal that will make them look absolutely natural and realistic when presented to an audience.
Photoshop is an excellent tool choice when you must maintain the best possible quality in a photo absolutely. However, not everyone has the skill to use them or access such tools.
Automatic background removers can deliver consistency, efficiency, and quality. In recent years, automatic background removal programs have become capable of producing amazing effects that were previously only achievable via the use of expert professional photo editors and trained technicians.
2. Precision
In background removal, precision is a very important factor.
A photo object is usually selected to repurpose and placed into a new background to make it look more appealing.
In e-commerce platforms especially, the products are put on a white background to maintain the requirements of some marketplaces. For some businesses, it is a preferred way because it is free of clutter, emphasizing what matters most– the product.
So if the images are placed on a white background, it is important that the edges of the subject are perfectly selected to prevent unwanted defects in the object presentation.
In the case of manual background removal, the path is selected by expert professionals, so naturally, you'll expect that the selection process of the edges is performed carefully. In terms of precision, you can rely on manual background removal services, especially if you outsource it to experienced photo editors.
Automatic background remover tools are more effective when the edges of the photo are sharper and more recognizable compared to the background. As we know, digital images consist of pixels, and background remover tools segment the images and evaluate each pixel to identify the subject from the background.
Based on the values of the pixels, the technology takes the decision and removes the background from the image.
3. Time
You may be familiar with the phrase, "Time is money."
As a professional photographer, your time is a very valuable asset to you. You have to take care of all your work with the limited time you have. You have to meet your deadlines always which will require you to reduce the workload in areas where possible.
The more you can produce, the more you are going to draw attention to your future customers who will rely on your mobility for better production.
As selecting a path requires a very careful and precise selection of the edges, it is safe to assume that it will require more time for a photo to get completed. In the case of outsourcing the work to an agency, they would still have to maintain their overall workload and routines and are forced to offer a quick turnaround time of 6 to 24 hours for their clients before returning the photos back to them.
On the other hand, if you select an AI-powered background remover, the processing of an image will be completed in just seconds! You can also download and get your image back instantly. There is no doubt that when properly trained, computers can perform a job a hundred times faster than a human being can.
Just consider the scenario in which you have hundreds or thousands of images. If you take assistance from an automated background remover, you may have your images returned to you fairly quickly, with all the backdrops removed properly.
Best Background Removal Tools: A Perfect Tool for Image Editing
1. remove.bg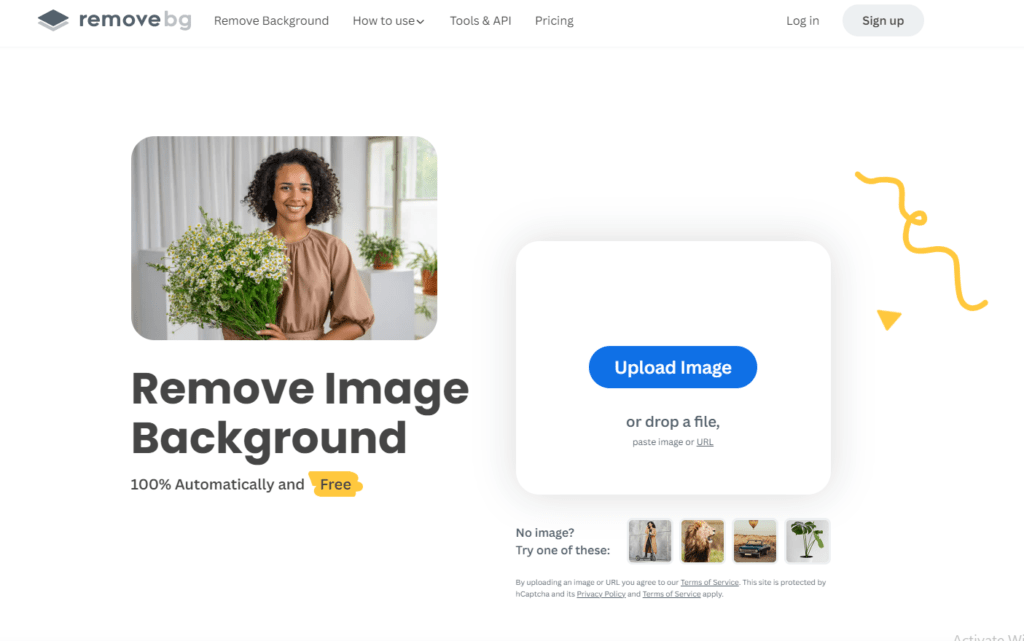 If you are looking for a website to help you with your images to remove the background and help reduce the editing time remove.bg is the website to go. All you need to do is to go to the website (remove.bg) and upload the photo that you want to remove from the background.
The AI-based website will provide you with an image without the background. You can keep the image in PNG form if you want it transparent. You can even add a white background and save it in JPG form.
---
2. Adobe Express
This is a background remover app that allows you to mark the subject of your image and create a transparent background in place of the previous one. This allows you to place your new image into various designs and destinations to make it stand out. You can also Place it on a colored backdrop or add a new background to put your subject in a completely new environment.
Adobe Express takes just a few seconds to use, and it's a completely free background remover. Simply upload your photo here. It can be either in JPG or PNG format. The background remover tool will get rid of the background automatically. After completing this, instantly download your image with a transparent background in PNG format.
Adobe Express isn't just an app to get rid of the background. It can also perform an array of easy-to-use functions that help you convert a photo with a below-average background into a beautiful visual that stuns your audience.
Place your transparent-background cutout on a lively backdrop to make it look more interesting, or make it a part of a larger graphic project like an illustration, flyer, poster, infographic, etc. Use the amazing collection of free design assets that can be found here, like text templates, icons, shapes, and more, to create endlessly with your photos.
You can unleash your creativity and skills with the picture editing capabilities and design tools available in Adobe Express. Add a shape crop to frame your newly cropped image, apply filters, or add GIFs and animation for a dynamic design. There are countless ways you can create a compelling image for any printed or digital format that you want.
---
3. Slazzer.com
It is also a website that you can use to remove the background from your images. You need to upload your image. Their online background remover instantly detects the subject from the background and delivers a smooth & clear cutout.
You can save an incredible amount of time as their AI can handle hair, fur, or any complex edges in just a few seconds, which is impossible when you are working manually.
They've also built plugins directly in the best design tools, programs, apps, and eCommerce platforms that can effectively improve your efficiency and workflow.
You can install their desktop application to drag and drop thousands of photos simultaneously. Just click "Start" and observe how each image gets cut out automatically without any manual input.
You can efficiently replace backgrounds from multiple photos to obtain thousands of AI-powered cutouts for all your design demands.
---
4. Fotor
Fotor is another website that can be used to remove the background with relative ease. Image editing tools from Fotor provide you the added value to their amazing AI technology. It lets you remove and change the background color of the image or replace backgrounds in seconds.
You can add photo effects, clipart, and text to the image and edit the foreground with their smart background eraser tool. They have hundreds of free templates which can be used to make stunning designs.
Their background remover is also available on Windows, Mac, and phones. Install their desktop application, remove bg from the photo app, drag and drop images, and get ai-powered cutout automatically anytime, anywhere you want. Fotor can boost your workflow efficiently.
---
5. PhotoRoom
PhotoRoom lets you remove the background of your image from both their website and their mobile app. On their website, you can remove the background of your image in just three simple steps.
Drag or select a picture
Remove the background
Download the picture
The PhotoRoom App is a free tool to produce stunning images. Different photo editing features are available in this app, like the photo retouch tool or the background remover.
Download the PhotoRoom App on the App Store or the Play Store and edit your photos from your smartphone on the go.
---
6. removal.ai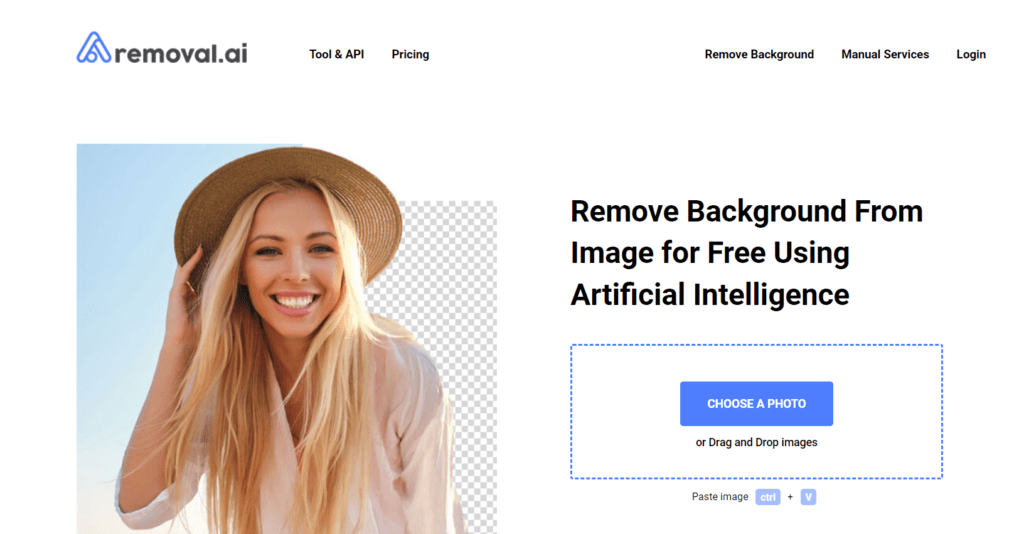 This is just like any other background removal website that I've talked about before. You can get images in a transparent, white, or customized background in a few seconds or less for free.
Automatically marks subjects on images
Very clear & smooth cutout edges
Capable of handling hair or any other complex fur edges
Process thousands of photos in a single upload
Their Photo Editor tool adds great value to their innovative AI technology.
Quickly remove and change the background
Add texts and effects
Edit the foreground manually using the background eraser tool
Presets to fit in different marketplaces
---
7. PicWish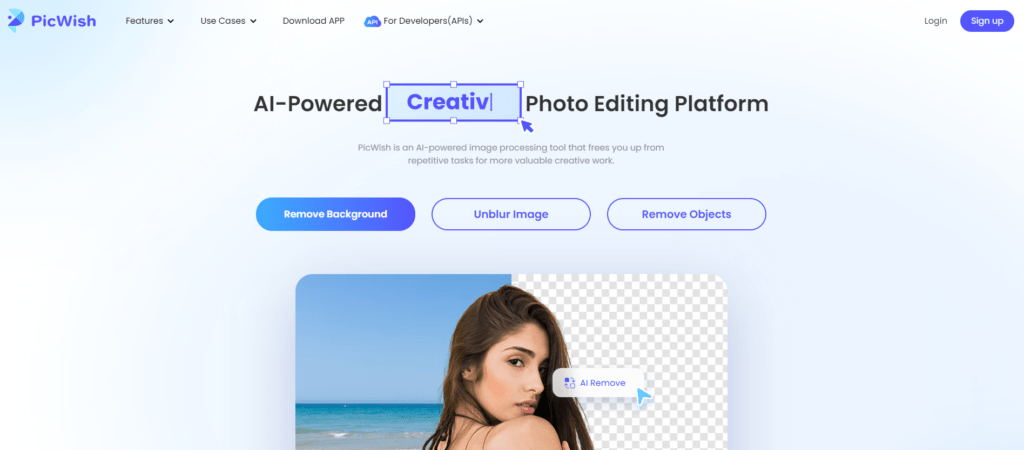 PicWish helps you to remove background effectively and easily to save you valuable time. There are two ways you can remove the background from here.
You can either select the image you want to remove the background of from your computer and drop upload it to their website. This is a simple process when you are working with a small number of images.
When you are looking for bulk removal, you can download their software on your computer and then use them to get rid of many images.
---
8. inPixio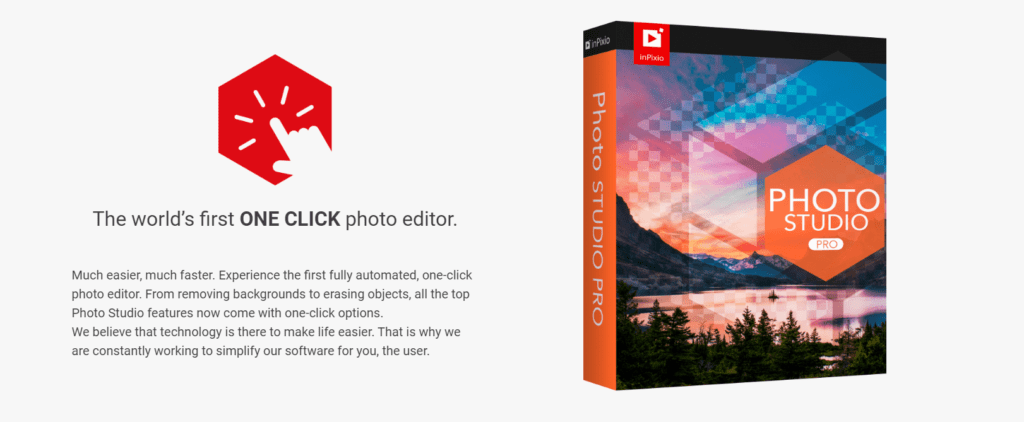 Another helpful website that you can use for background removal is inPixio. Their background remover tool uses Artificial Intelligence (AI) along with machine learning that separates backgrounds automatically from the object. If this doesn't give you the desired result, you can also manually select the areas of the image to erase and keep from their website. This multifunctional aspect of this website makes them a popular go-to place for background removal.
---
9. Pixlr
Pixlr is a completely free and 100% automatic background removal tool. You can get automated background removal in a few seconds with just one click.
They have state-of-the-art AI-powered tools that can remove background from your images, pictures, photos, listings, and selfies in a matter of seconds. You can get a clear cutout of the object after the background removal, which you can use at your own convenience.
You can remove the background on hundreds of photos simultaneously. Afterward, you can fine-tune the received output with their detailed cutout tools. This is a very helpful tool for people who want a quick removal service.
---
Closing Thoughts
Now that I've discussed with you the best background removal tools, I can reasonably assume that you definitely have a very firm idea of these websites that you can use for removing the background from a picture. You can now get rid of the background of your image perfectly with the help of these websites.
Using the websites discussed here, you can remove background from images of different sorts. I'm again telling you that these are not the only tools to remove backgrounds from an image. If you go online, you will see that people use different tools according to their personal preferences. But if you observe them more closely, you will see that most of the tools they use to remove the background from photos are fairly similar.
So, if you've read through this article, you can remove the background of a photo easily with the help of any one of these tools. You will also be able to change the photo's background with some new and amazing ones that will draw your client's attention and make them satisfied with your work.
Still having second thoughts about automated background removal tools and requiring any professional help with your picture? Worry not! You can always get assistance from Clipping Path CA.
---
Why 'Clipping Path CA' is the top background removal company?
Clipping Path CA is a professional image editing and retouching company. They have 120+ experts of their own. They can provide background removal services to clients who have issues removing them from their photos. Clipping Path CA. is a photographer-friendly platform that delivers its services at a reasonable price and with a fast turnaround time. Client satisfaction and happiness are always their main targets.
Photo Retouching is a service that offers photos that are perfect and flawless and transforms them into attractive images with the Photoshop Service by removing backgrounds from images and also changing the background of the photos. It is one of the most demanding services in photo editing services. Images become more appealing and focused with the addition of photo retouching.

Questions and Answers for Best Background Removal Tools
Which Adobe program is the best for removing backgrounds?
The program that is used to remove the background from the photo is Adobe Express. This program can be used easily to remove the background of the image.
How long does it take to remove the background from an image manually?
When you are new to this type of editing, it may take time to remove the background of a single image (around 10-15 minutes). But once you've had some experience with background removal, you can work very quickly. Some images will take more time than usual if they have more edges and curves.
Is background removal the same for pictures with people?
The steps are the same for images of people. But in the case of those photos, you need to be more precise with your selection as people have more complex and nonlinear shapes than objects.
Which removal software should I use?
In the article, I've discussed many background removal websites and apps. Depending on the number of your photos, requirements, and budget, you should select one of these accordingly.