Shoe photography has become a trend nowadays. This is more like a passion for some people. Moreover, it has become a new source of income. If you know how to photograph shoes, you are welcome in the shoe production companies or showrooms.
People will not look forward to buying shoes that most probably look gross, dark, old fashioned in photos. Generally, customers who shop online don't have the chance to touch it. They also don't have the opportunity to test the quality and the material.
If you can take an accurate picture of shoes, customers will have more chance to understand their quality. That's why photography of shoes is much more needed. If you don't have much idea about the photography of shoes, we can help you out.
---
How will you start with shoe photography?
If you are a beginner, you must know about photography first. Then you will know how to photograph shoes. Because what you are doing is an act of passion. Remember, you have to go a long way.
Step-1: Camera
First, you need a good camera. Buy it from NIKON or CANON. Remember, it's an investment. Buy all the essential tools you need for photography. It is not apparent that you have to buy expensive things. But at least try to get the right materials.
Top 10 Best Camera For Professional Photography In 2020
Step-2: Skill development
Learn course about photography. Learn it from any institution or online course. Go through photography magazines. If you follow renowned photographers, apply their tips.
Step-3: Practice
First, capture a picture of any kind of object. Learn how to focus. Keep on practicing. Never take a long break.
Step-4: Planning
First, you must ensure that, if it's going to be your profession or not. If so, how much time per day you want to give. Also, what kind of environment you want to use for your photography, which kind of shoes you want to represent, will you use a model or not.
Grab a notebook and enlist your plans. Research a lot about your profession. Then, start your journey.
Step-5: Client
Capture pictures of your choice. Then create a page of your own on social media like Facebook or Instagram. The more you attract people, the more it will be easy to get work.
Step 6: Details
Most photographers just pay attention to framing and background. But these are not the only issue. You must see all details. If you just take the pictures and don't notice the surrounding, angle, or similar things, it's of no use.
---
Tips to become a pro
Here are some features you must notice. No error is acceptable in those cases.
Background
It is one of the most critical issues. At first, make sure that there is no stuff kept in the background. Basically, if you do photography in someone's place or shop, make sure nothing snatches the attention. Also, light adjustment is a big issue in indoor photography.
It's better to do photography under the open sky on a sunny day. If it's raining, it will be a troublesome issue. Also, avoid a dusky or dirty environment. A too sunny day also ruins it.
Color contrast is an important issue. If you choose a vibrant color, it will overpower, and the shoes will lose attention. Also, don't use the same color background. People will have to try hard to find the product. Try to choose a light or white background. A white background is more eye-soothing than any other color.
Angles
Don't target a specific angle. Capture the shoe from different angles. Then compare which angle looks good. It is hard to get a perfect picture from just a particular perspective. Take a left, right, front, back, top, and bottom view. Take a close shot as well as a distant shot.
You are helping customers to choose their shoes of choice. No view must be missed.
Focus
This is another crucial factor in the case of shoe photography. Customers always want a detailed picture. If you cast a blurred image, it can ruin everything. Try to focus on every angle. But don't create a focus on the wrong side. Try to get full coverage of the shoe. Don't confuse your customers with the wrong focus or blurry image.
Surface
Check the surface on which shoes will be kept. Clean if there is any dirt. If there is any stuff gathered, move that away. If the surface is dirty, it will ruin your customer's attention. Also, if the surface is loaded with unnecessary things, that's a huge fault.
Lighting
Natural light is the best. Try to shoot on a sunny day. But direct sunlight also hampers the picture. Balance your light.
If you shoot indoor, even it is a dark environment, don't use a too-bright light. Also, if there is any mirror, it will create reflection and disturb the view. So, try to notice all these things.
You can use a lightbox which is not that expensive. But if you can't afford it, use a lamp for light effect.
Model
Choose the model wisely. Use a model which feet size match your shoes. Use a model with slender, attractive legs. Just take the leg photo. It's not apparent to match dress color with shoe color. But it will look good.
Models must make it from every angle. Just remember, the shoe must be the only focus, not models.
Other details
Keep both pairs of shoes in a fashionable manner. Capture from every possible angle. Pay attention if there are any tears or scratches in your shoes. Also, make sure your footwear is clean.
 If shoes get shrieked, put some clothes or paper inside shoes. Keep the stripes in place. Tie ribbons properly. If it is a boot, use thread or other support to keep it stand. In case of boots or sneaker photography, put some stuffing.
Picture of sneakers
Experiment
Experiment with your pictures. Try to find the best angle. Find an attractive way to stand shoes. You should change your location regularly. Play with light and shadow. You can add some flowers or pebbles to make the whole picture attractive.
Customers must be hooked on your creativity. Make sure that nothing distracts your customers. The shoe must be the only focus.
Processing
Adjust the background. Edit it if it looks dark due to weather or poor lighting. If anything, an unpleasant thing appears in the picture accidentally, and you have a chance to take another picture; just remove it with photoshop. If your background is weak enough, remove the background and replace it with a white background through photoshop.
You must know how to crop. Don't crop it too much or too less. Resize if needed. But don't disturb the photo resolution. Also, use all photos taken from all angles. If the color of shoes is not recognizable due to poor lighting, recolor it. Make hue and saturation adjustments for your white and light-colored shoes.
If you have used soft focus, increase the sharpness of your photo. So, you must have photoshop skills too. If you can't do it on your own, just seek help from someone who knows photoshop well or some photography agency or graphic designer. But don't make too much change. Photos must represent the actual product.
---
You need to avoid these things
Never leave a shoe just stay flat or fall on the ground carelessly. Always find a shoe model so that customers can get an idea of how the shoes will look when worn. If you can't find a model, at least fill the boots up with some clothes or maintain the height with a thread.
Never choose the wrong fit for your shoe. If the shoe size doesn't match your model's size, it will look horrible.
Just don't choose the model without fulfilling any essential criteria. Find a slender long beautiful leg for your photography. A dirty, ugly foot may ruin the impression.
Don't use a too colorful background for your shoe. Customers will get confused.
You can use props such as flowers or kittens, but don't use too many accessories or colorful things. It will distract your customers.
Never take a blurry image. A blurry photo never helps your customers to test the product.
Don't take a picture from the wrong angle. Even if your shoe is beautiful enough, it can't look attractive due to the wrong angle.
Don't use soft focus.
Never photoshop too much. It will change the color and details, and your customers will never get an accurate idea.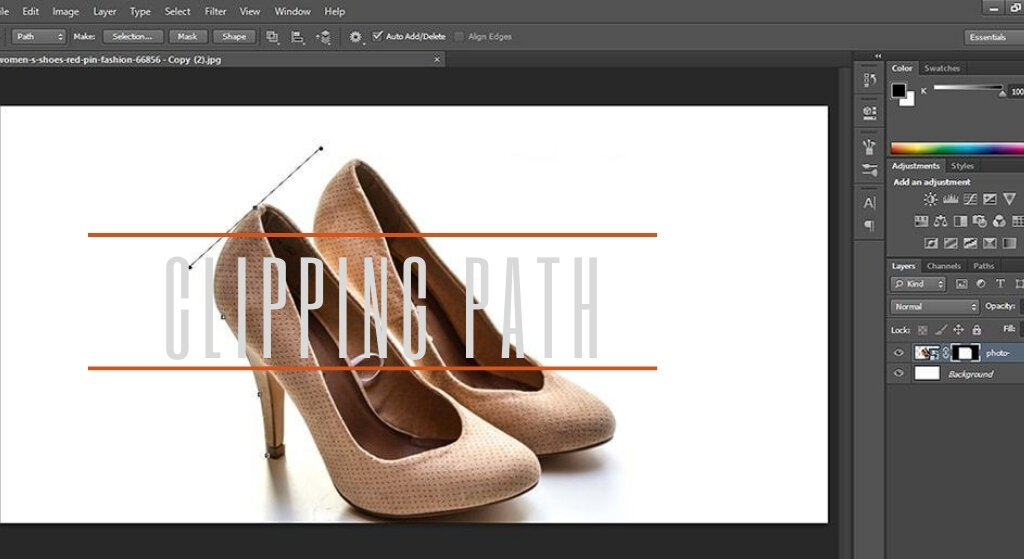 Shoe Photography Editing Service Provider
Shoe photography is an excellent job if you actually know photography. You just need a DSLR or a regular camera. Even you can use your phone. Also, you can create a blog site. You can create your Facebook page or Instagram page.
You can take pictures for magazines, websites, or specific companies. Customers, as well as shoe companies, are needed to be hooked by your photography. If you really love this, this can be your dream job.
---
Final Thought
Selling the shoe is a bit of hard work without quality shoe photography. Customers can't touch shoes and compare the quality. You are the only medium to give them an overall view of their desired product. So, if you want a career in shoe photography, go for it!