Photographic studios are crucial in the world of online shopping. As a result, Los Angeles has experienced a boom in the number of photography studios.
These eCommerce photography companies guarantee product photography throughout the entire process. By doing this, the clients' eCommerce businesses will expand.
This photographic business offers several categories. Some charge less, some a little more. Some studios employ technical professionals, while others provide less labor-intensive goods.
This article will dissect the topic and give you a detailed overview of the 15 most affordable photography studios in Los Angeles.
What are photo studios?
A photography studio is a location, such as a permanent office, that was created to be used for capturing pictures. The area where this is being discussed routinely hosts still photography events.
At its most basic level, a studio will consist of a brightly illuminated area with a plain background to permit taking pictures in a setting free from intrusive external light sources.
Additionally, the term "studio" refers to a photographer's workspace, which may also contain a retail outlet for selling the photographer's pictures and finished images.
Studio photography is performed in its purest form indoors, in a controlled environment, where the photographer has total control over every aspect of the process.
Various topics, such as people, animals, and a wide range of objects, such as jewelry and vehicles, are photographed in studios.
A photographic studio typically begins as a blank canvas or an empty room. The photographer will then create the backgrounds and select what elements, such as the models' outfits and the objects, should be included in the image.
7 essential factors for Rent a Photo Studio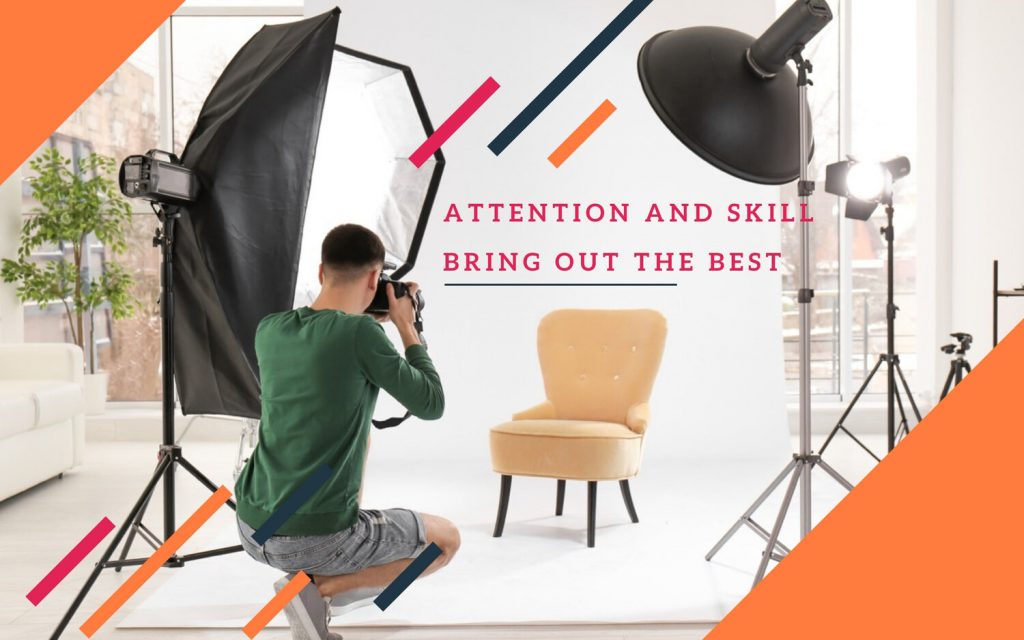 If you're renting a professional photo studio for the first time, you might not be sure of the elements impacting your decision. It takes great consideration to choose the right place for your creative activity, which is why we have put together a list of the prerequisites.
① Photo Session
Before anything else, you need to decide what kind of photo shoot you want to do—whether it's shooting a commercial for one of LA's major companies or pursuing a passion for portrait or still-life photography.
Various locations and sets can be required, depending on the type of shoot you're planning, to achieve results you'll be completely satisfied with.
② Spending plan
The second important issue is your budget. Consider the amount of money you have available for the photo shoot, location rental fees, and additional costs like equipment rentals or meals if you're planning a full day of work. If the numbers are clear, it will be much easier to concentrate your search on the areas that are within your price range.
③ Unit capacity
The term "studio capacity" describes how much floor area your project requires to be completed successfully. Decide whether you'll be addressing a huge crowd or just yourself and your subject, on the other hand.
④ Infrastructure
Before continuing, think about if you'll require any additional facilities. This could contain a space for hair and cosmetics, a kitchen, some storage, and an editing room.
⑤ Instrument rental
The majority of studios come equipped with basic photographic tools like lighting and backdrops, but occasionally you'll need to pay more for a wider selection or bring your own equipment. Your search for the best picture studio can become more focused if you make a list of everything you'll need.
⑥ Additional costs
Always check the rental agreement's terms and conditions to discover what is included. Keep in mind that if you want a lot of extra amenities and equipment, the overall cost will increase (such as more parking places). If you go beyond the allotted time, remember to check the fees.
⑦ Place
If you're looking for photo studios in a specific area of Los Angeles, take into account the location. Accessibility, parking options, and proximity to important transit hubs are all important considerations. If you're working with others, you must do this in order for them to find the studio and arrive there fast.
---
The Top 15 Los Angeles Photography Studios
There are many eCommerce photography studios in Los Angeles. These studios contribute to the growth of the eCommerce industry. The body of this post contains a list of the 15 best affordable Los Angeles photography studios with appealing equipment sets, fair price structures, and facilities.
① FD Photo Studio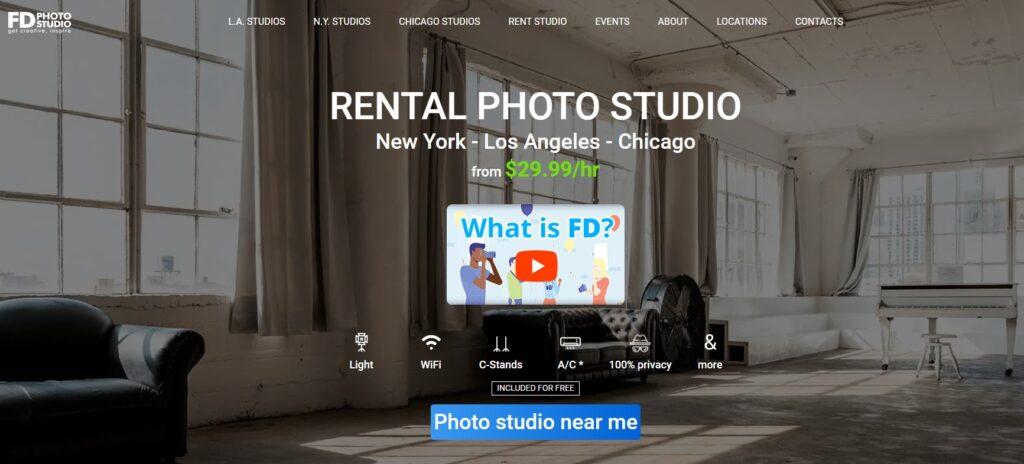 FD photo studio is an LA-based photo studio. You can choose FD for various reasons. For their online calendar & fast booking, equipment, 1 hr minimum, 4-5 times the lower rate, discounted hourly packages, friendly & knowledgeable team, unique sets & interiors, and many reviews.
They have more than 50 rental photo studios, 87,000 square feet of photo space, more than 31,000 professional photographers, and more than 120,00 successful photo shoots.
For people who value excellent photographs, FD Photo Studio provides high-end photo retouching services. They produce photos of the greatest quality for a low cost. To achieve delicate perfection, they use sophisticated editing techniques, such as dodge and burn, hair retouching, cosmetics tweaks, etc.
Their primary focus is on professional clients, which include magazines, ad agencies, photographers, news outlets, and businesses.
At their studio, a group of professional retouchers and digital artists have gathered. These individuals are real specialists with years of experience and dedication to their work.
You must submit your photo together with any desires or comments for them to work on it, and then you will get a pricing quotation.
They will then begin the retouch after you have confirmed.
Following that, edited photographs will be sent to you; payment will only be sent after your approval. Download the high-resolution edited pictures at last.
The starting price for a photograph with a beauty or fashion retouch is $15. The original photo's quality and the quantity of modification necessary will determine the final cost. We accept several forms of payment, including PayPal, Credit Cards, and others.
② Radiance Photography Studio
Radiance is a high-end photography studio that records all of life's events that you don't want to forget. They will enable you to treasure your priceless memories. Although Radiance's headquarters is in Los Angeles, we'll gladly go with you if your event is outside the city.
The team at Radiance specializes in shooting weddings, engagements, bat mitzvahs, birthdays, and baby showers, but they are always eager to capture new and interesting locations and occasions.
They cover your event all day, and all photos are posted online soon after. When editing and post-production are involved, much attention is used.
Furthermore, they offer a service for product photography. Their modular studio is furnished with various set pieces and lighting fixtures to stand out with your items.
Their tagline for their wedding photography is "Let us help you choose and capture your special day." They also provide event photography for those other essential occasions you treasure just as much as weddings. However, they employ studio or home photography to capture family and professional headshots.
③ Concrete Studios LA
Concrete Studios is one of the best-equipped and most reasonably priced rooftop rental studios in Los Angeles. It has two sites. In addition to content development, they provide photography and video.
This studio is affordable for artists. Concrete Studios LA is committed to giving its customers the required equipment, the economic location they desire, and the superior customer service they deserve.
Customers have a choice of six studio settings. You can find a vintage upright piano, antique sofas and chairs, 3 Lights/Strobes, and more in Studio LA. It also has five creative walls and backgrounds that can easily pull down from the walls.
Windows in Studio B's west side provide both spectacular afternoon light and glistening morning light. Our brightest studio, with polished flooring, canvas backgrounds, soft curtains, three lights, and strobes, among other amenities.
A 14-foot-wide, 12-foot-tall corner cycle wall is featured in Studio C. 9-foot floor-to-ceiling windows. Six colorful background rolls. 4 Lights, a strobe, and more.
A 16-foot-tall CYC wall, a makeup station, a white brick wall, four lighting, and other amenities will all be available in Studio E.
Our largest creative studio, Studio F, has a vintage and rustic theme with accessories that give your photo sessions the sense of an old-fashioned "Vanity Fair" publication. The magnificent 16 x 18-foot cyc wall, Paul C. Bluff Einsteins, and more may be seen in Studio F.
④ Rose Studios
Rose Studios is a rental-based creative space that supports artists and businesspeople in personal development, content creation, and brand development.
Their four studio apartments and two roofs are situated in the Fashion District, in the center of Downtown Los Angeles. They are accessible for private parties, as well as for photography and filmmaking.
They provide urban loft planning and studio services. Downtown Los Angeles has a stunning studio apartment with an open concept of 2,500 square feet large. Natural light enters the room through large windows, which wonderfully complements the room's muted color scheme.
They are accessible 24/7 with an appointment and charge an hourly rate of $125 for photography, filmmaking, and private events.
⑤ Apex Photography Studio

They have distinctive, adaptable, and convenient photo studios. We're a one-stop shop with all the supplies you'll need to quickly produce the great picture and video material combined with their staff and equipment rentals.
Apex can assist you in getting the tools, studio space, personnel, and more you require, whether you need a studio or a production crew.
Their studios in Urban provide a singular assortment of gorgeous indoor studios with natural light and expansive rooftops with views of the downtown skyline. A team of creatives at Apex Productions is committed to producing stunning images and video material that narrates your narrative. They offer everything you need under one roof, from casting to editing, studios, and equipment.
Thanks to the presence of creative staff, various venues, and high-end equipment all in one place, it is extremely easy and profitable for them to provide their clients with creative solutions for all their needs.
They spend the time to get to know each of their clients deeply to understand better what they can do to help them succeed, which is equally vital. Here, they constantly go above and above.
⑥ Camera Creations Photography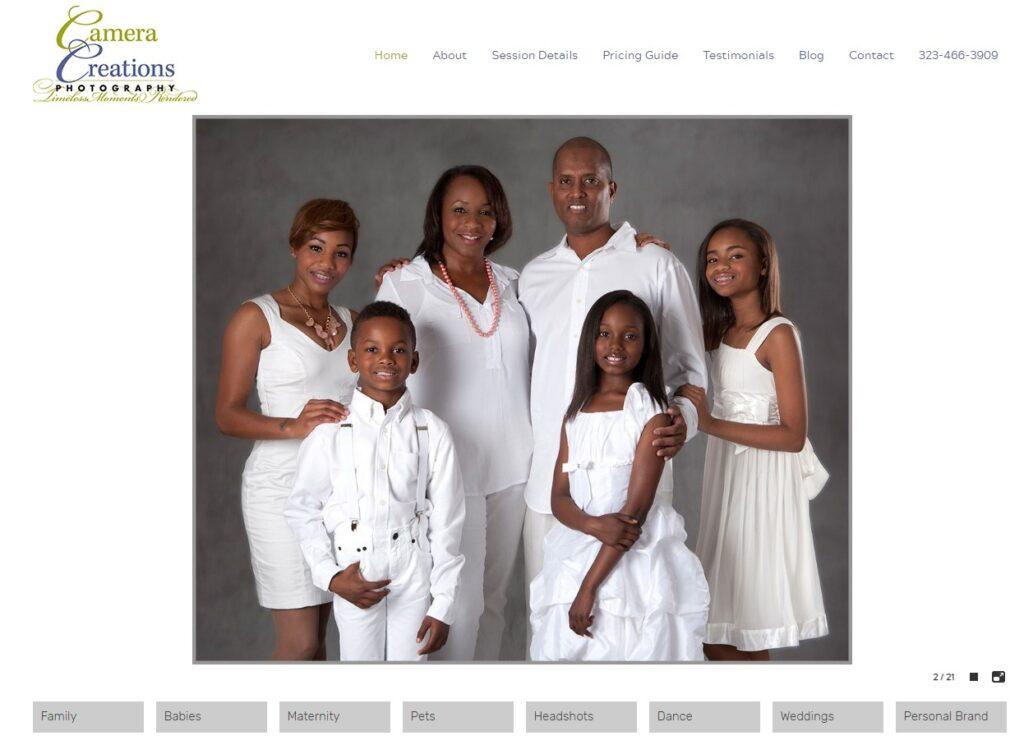 In 2005, the desire to devote one's career to the fine art of portrait photography led to the establishment of Camera Creations Photography. They appreciate the human condition and know our value in making memories. Camera Creations works on the idea that photographs help us recall past experiences and foster emotional connections between family and friends throughout time.
The Beverly Grove neighborhood is where the upscale photography studio is situated. The welcoming and enjoyable Camera Creations Photography studio is a great location to visit for a free consultation, a picture shoot, or an occasional event.
They emphasize a high-touch service, attention to detail, and a solid relationship with our clients. They have a staff of skilled assistants available when required. For pre-session preparation for picture and headshot sessions, weddings, and other events, they provide a variety of makeup artists and hair stylists to choose from. Sessions for portraits and headshots may also be conducted outside of a studio.
Julie Hopkins is available for photographic sessions at her studio, Camera Creations Photography, and the client's choice of setting. The website provides specific information about each session.
Picture session investment varies according to the session's nature, scale, and location. You are starting at $395 for a photo session. Please get in touch with us to learn more about how we can customize sessions to fit your budget, as each photography session is created specifically for you to fulfill your needs.
When reserving your day, the session price secures the time and date of your appointment on our calendar. At the design session, buyers can acquire art items like CDs and prints. For a Baby's First Year Plan, they provide special bundle rates.
⑦ Zen Studios LA
Zen studios are situated in LA. After working with tens of thousands of individuals, they discover that most people struggle with poses or experience shyness in front of the camera.
They also observed that consumers want to avoid viewing headshots of people staring out into space. Because of this, they will walk you through the whole process, putting you at ease and ultimately bringing out your actual personality, and they promise that both you and your team will like your headshots.
Zen Studios should be hired because they have expertise working with organizations of all sizes, including those with hundreds of workers. We simplify the process while offering a joyful experience emphasizing quality and efficiency.
They might travel to your site and take all the images within your workplace. They can film anyone anywhere, thanks to the mobile studio. 5 to 100 headshots may be taken in a single-day session.
Inform them of the anticipated number of participants in the shoot, the dates, the location, and how you want to use the images when you first get in touch with them (New Website, LinkedIn, print, etc.) You'll receive a price quotation from them.
⑧ Pacific Hill Studio

This photography studio in Los Angeles specializes in fashion photography, events, portraits, headshots, weddings, maternity, and videography. Their portrait pricing starts at $350, fashion/lifestyle pricing at $350, events at $350, maternity pricing at $350, and wedding pricing at $1,500.
One of their customers said, "Had an amazing time shooting this family at Lake Balboa Park in the valley. It was a Friday, so the park was pretty empty, and there was great lighting".
⑨ CFP Studio Photography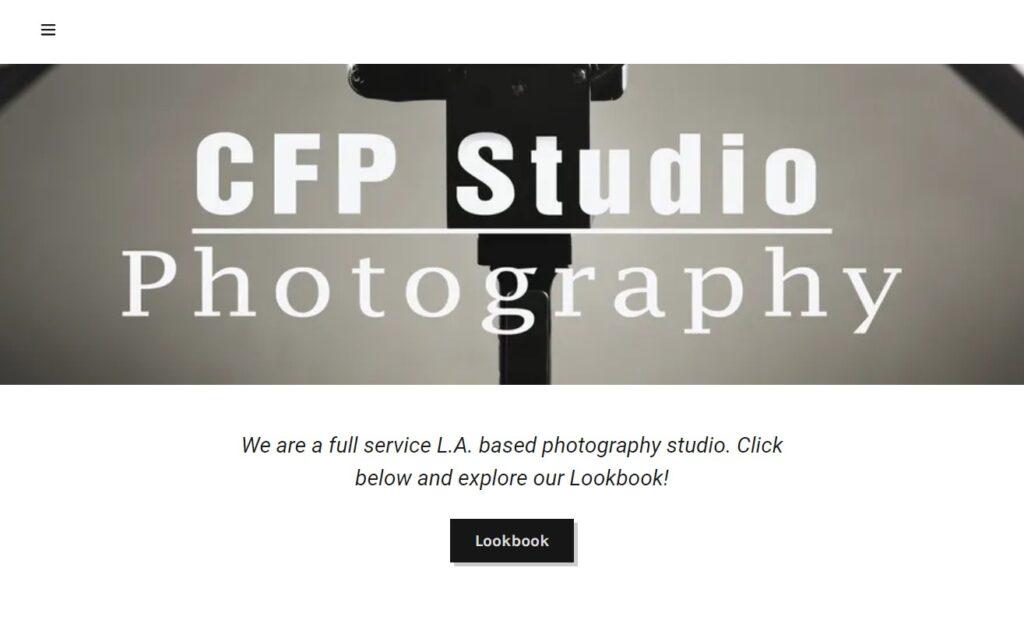 They are a full-service L.A.-based photography studio, and over 30 years in business is something CFP studio is delighted to commemorate. They serve the Culver City and West Los Angeles region in a welcoming, expert, full-service studio in the McConnell Marina Properties Complex.
They specialize in taking fantastic photos that meet your wants and objectives, whether you're interested in individual, family, or corporate photographs to connect your image with your organization.
The goal of CFP studio is to capture realistic and creative photographs, images that the subject of the shot and their studio will be proud of, and to do it with passion and enthusiasm. They have a unique perspective on your family, kids, and company photographs.
⑩ The Room Downtown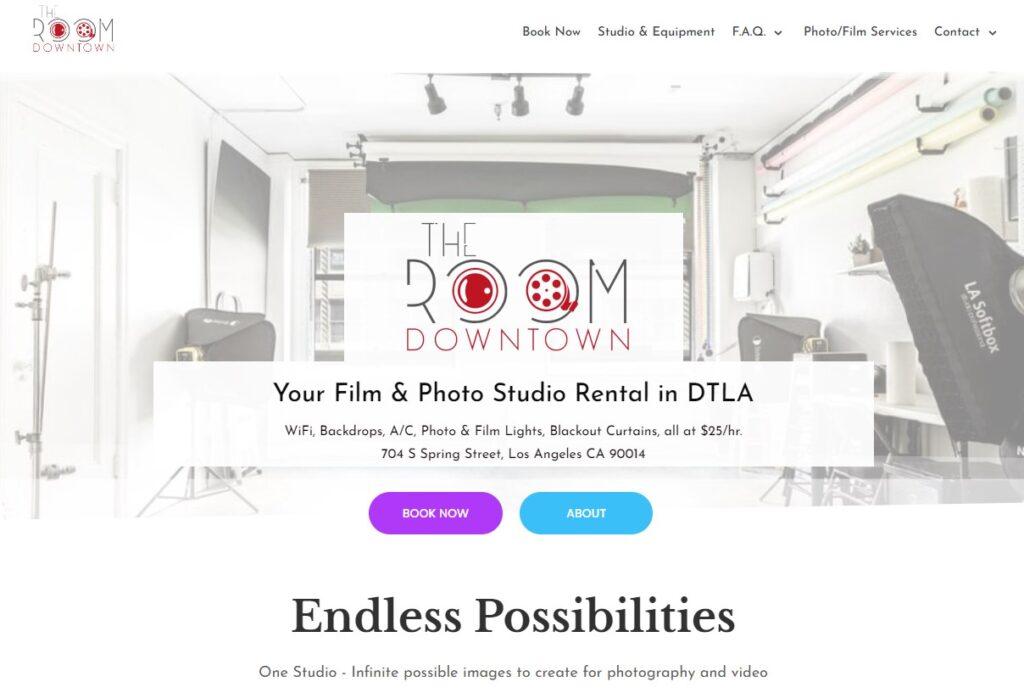 The Room Downtown is a Los Angeles photography studio, green screen, production rental, film studio, or raw creative space.
All you need is a white, green, and black Savage 9-foot backdrop and free lighting equipment (continuous lighting and strobe lighting).
Fast and reliable Wi-Fi internet and the easiest, fastest booking solution available for live streaming on social media
Additionally, they provide the lowest hourly and daily rates for Los Angeles photo studio rentals in DTLA, at a maximum of $25.
⑪ Hubble Studio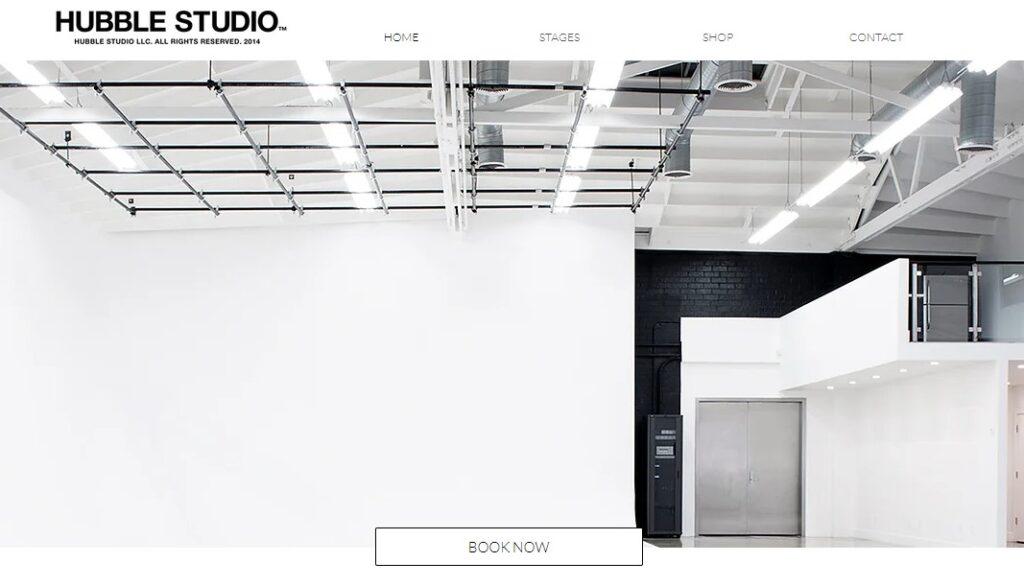 Their 4,000+ square foot location is in Downtown Los Angeles just outside the Arts District.
Phase 1 has two skylights, a bicycle, and polished concrete floors. A production loft is provided with a view of the entire stage.
The power rating for the area is 400 amps, and Bose surrounding sound speakers are also available.
The little soundstage, which is backstage, is also open to clients. There is a television, a grid, and a private bathroom on this soundstage. There are two specially created VIP rooms, and a small refrigerator and a TV are provided in each green room.
Three built-in glamour stations, lamps, and a garment rack are all included in the makeup and hair area.
⑫ Space and Light Digital
The challenges of 2020 have highlighted how crucial eCommerce is to your company. Customers are just as delighted to purchase online as in-store, sending their money to innovative businesses that offer the finest online shopping experience.
You can make a name for yourself in the congested internet market of 2022 by collaborating with the top eCommerce picture supply, Space and Light Digital! There are many subpar choices, but since 2002, Space and Light Digital has been producing top-notch eCommerce marketing images and videos. Space and light belong to an exclusive group of picture suppliers thanks to its 18 years of outstanding achievement.
Since 2002, more than 160 firms from the US and worldwide have put their confidence in Space and Light Digital to increase their sales with captivating, eye-catching imagery and video that entice consumers to their online stores in droves.
Including creative direction, product photo, fashion photography, start-to-finish e-commerce, social media campaigns, digital marketing, lookbooks, catalogs, retouching, color correction, model casting, set design, wardrobe skills, hair/makeup artistry, and they can even do it on-location.
All the services you need to create great content for the discriminating customer and to drive your sales growth are here under one roof.
They have years of experience producing imagery and video for your marketing platforms, including Facebook, Instagram, Magento, MailChimp, Shopify, and Amazon Marketplace.
⑬ Aaron Jay Young Studio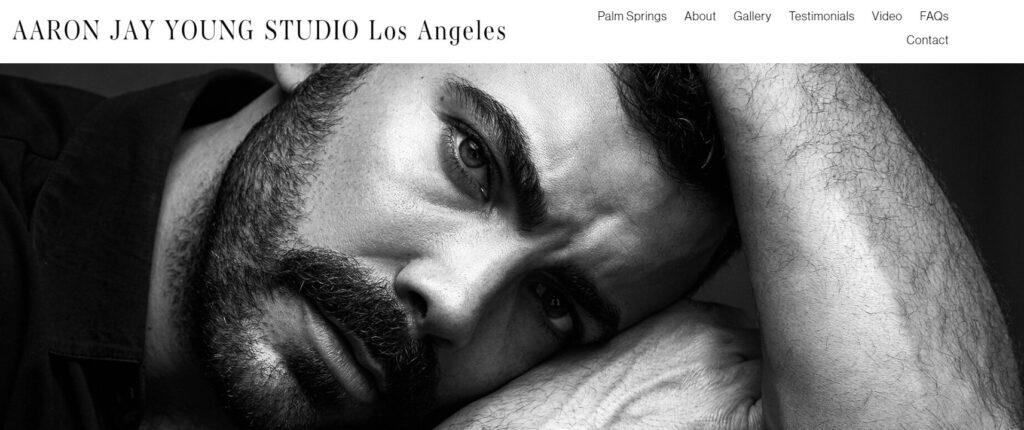 Over ten years ago, Aaron Jay Young began working as a portrait photographer in Los Angeles. His job is his passion, and all of his life's experiences—the suffering, the trauma, the work he's done to learn forgiveness, love, and compassion for himself—have given him the capacity to perceive truth and genuinely depict the suffering, pleasure, and vulnerability of others. Everyone has a right to visibility and hearing.
Before scheduling a portrait picture session, they always have a phone consultation to get to know you better, discuss the images you might desire, and go over other details like dress and price. They'll give you advice on what to wear and hair and cosmetics. Although not essential, hair and makeup are always available for an extra fee.
You will come on the day of the session with your chosen outfits, and they will spend some time just getting to know one another better. The garments will be hung on a rack so they can browse through them. About 2 hours are spent on the actual shot.
This one will be more laid back than earlier photo shoots you may have participated in. They will do all their power to make you feel comfortable and free to be who you are because they want to capture you.
The only thing you need to "do" is trust me; they will walk you through the entire procedure. They promise that we'll obtain breathtaking photos that you'll adore.
⑭ NoHo Photo Studio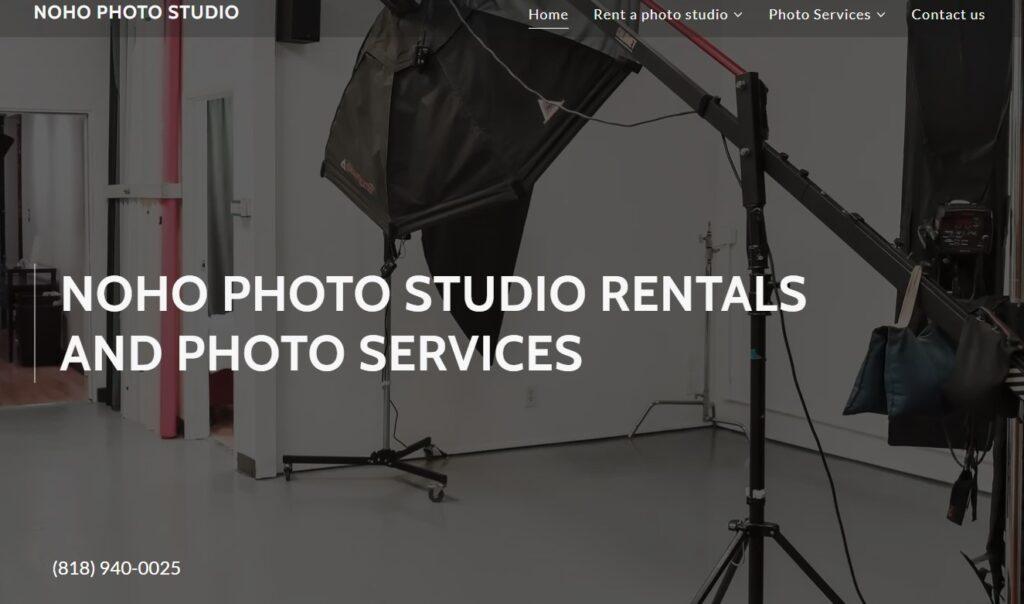 NoHo Photo Studio Rentals was founded to build a studio that will meet the needs of both experienced and aspiring photographers. They have everything needed in their fully furnished studio to create the ideal photo shoot.
Their studio is perfect for picture sessions, commercial shots, seminars, and more because of its special facilities, setting, and space. It is conveniently situated on Laurel Canyon Blvd., between Sherman Way and the 170 Freeway.
The large studio has a sitting area, dressing area, private office for post-production and presentation, and a lovely open space studio. The facility accommodates working professionals and amateurs, and it is perfect for portrait, headshot, group, and product photography.
If you're interested in headshots or any portrait, you can look at their packages. They'll be happy to assist you whether you're starting a modeling profession or updating your old images. They are friendly to both adults and kids.
The ideal option is a company branding photoshoot to showcase your workspace and business processes, market yourself and your team, and so on. Because being pregnant is a fleeting yet essential stage of life, our studio also provides a maternity photoshoot.
⑮ Rare Studio LA

A commercial photography and production studio with headquarters in Los Angeles is called Rare Studio LA. Their guiding principle is to provide high-end commercial photography sessions at a very affordable cost.
So that we can provide excellent quality, quick turnaround times, and still retain a reasonable price, they set up the studio for optimal efficiency. The customers they have worked with are listed above.
---
How much does it cost to rent a photo studio in LA?

The cost to hire a professional photography studio in Los Angeles varies according to the studio's standard, size, and amenities. Affordable photo studios start at $30 per hour, while more expensive choices can cost up to $950 per hour.
The use of several fundamental photographic tools, such as various backdrops, tripods, and lighting kits, is usually included in the rental prices of Los Angeles studios. A restaurant, changing areas, or stations for hair and makeup are just a few extra amenities that some picture studios provide.
In Los Angeles, the downtown area is the best place to hunt for a rental photo studio. With various room setups and accessories to create various moods, the Historic Core neighborhood has an awe-inspiring assortment of outstanding studios.
You can pick something other than DTLA, though, and South Los Angeles, Mid City, and South Pasadena are just a few of the neighborhoods in the city where photography studios may be found.
You may also be able to employ props, such as furniture that can be moved about the room to put up the ideal scene, depending on the sort of studio you select. And if you want additional goods, you may frequently rent them for a price.
---
Final Words
In conclusion, an online photography studio is needed to add value to your goods.
Due to this, you must ensure the studio you are dealing with is reputable, falls within your budget, respects your decision, and upholds good consultation and communication.
All photography studios directly or indirectly edit their images through a trusted outsourcing image editing company that you know, and all famous photographers know about this.
If you want to do smooth photo retouching, you can select Clipping Path CA, and I can suggest you for your convenience.
So, the guy we are presenting in this post is some affordable Los Angeles photography studios, along with tips on picking them and hope it helps you a lot.