It's a lot of fun and can lead to some great results in a photoshoot for cars. Both the risks and the rewards are substantial. A strong portfolio and lots of experience shooting cars can help you land a high-profile photography tour.
Cars mean a lot of different things. Since they were first made, they have stood for the freedom and excitement of the highway. Over time, they have become status symbols that are a part of who people are.
In this article, you will get to know amazing tips and guidelines for 10 creative car photo shoot ideas and the best camera for car photography that you can use to get the perfect shot in 2023. 
The art form known as "car photography" consists primarily of taking photographs of motor vehicles. However, to entice potential purchasers, that image needs to be distinct and comprehensive.
The art of car photography consists of capturing the ideal sequence of images of automobiles in such a way that they draw the attention of the viewer. Photographers specializing in automobiles take images of cars for use in advertisements and other forms of marketing collateral.
Why need a car photoshoot?
Makes the buyer interested
Keeps your hobby alive
Ensures the details of the cars
Using your favorite camera or mobile phone effectively
Every car is one-of-a-kind and can be recognized by the distinct contours of its sheet metal or even, in some cases, the hue of the stitching found inside. In this day and age of instant gratification, taking the time to fully appreciate every facet and component of the subject you are photographing is a luxury that few people can afford.
As you get to know the car better, you gradually develop an appreciation for it as an entity in its own right, right down to its unique personality. You may upload these photographs to Instagram at a later time, but right now, your attention is focused on the scene that is unfolding in front of you, and you are mindful of what you are seeing.
---
Effective tips for car photography
Like portraits, car photos should not be taken at midday. Sunlight is the harshest overhead. Harsh light creates harsh shadows and contrast that can be unmanageable. It causes the worst glare and reflection. Post-processing these errors can be difficult.
1. Beware of Car Reflections
Sunlight reflects on a shiny car. All mirrors reflect light. The car you photograph will have many blown-out highlights. To avoid clipping highlights and darkening your car body, you must find a balance. HDR photography can help.
Cars also reflect their surroundings. When photographing a car, nothing should be around. Avoid shooting at a 90 ° angle when taking close-ups of cars, especially to capture their character lines. Shoot from such an acute angle to avoid reflecting in the car's body.
2. Different Angles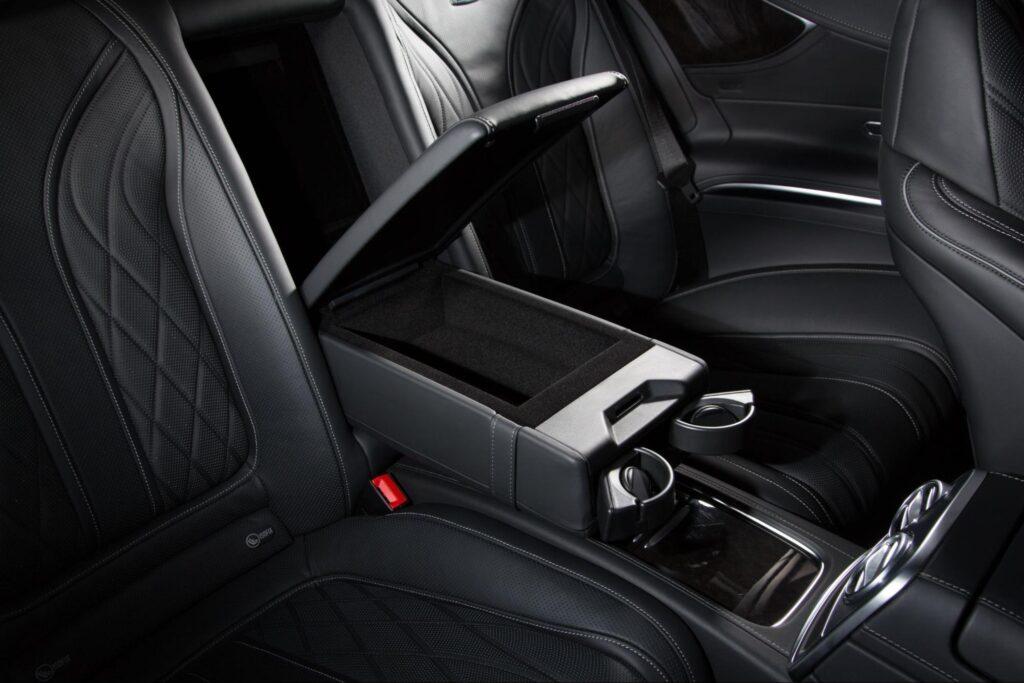 Changing angles can reveal new angles of a car and inspire creative compositions. A classic shot will always produce good photos. This angle shows the hubcaps from below with the car's front wheels turned. Many car ads use this foolproof shot.
3. Lowdown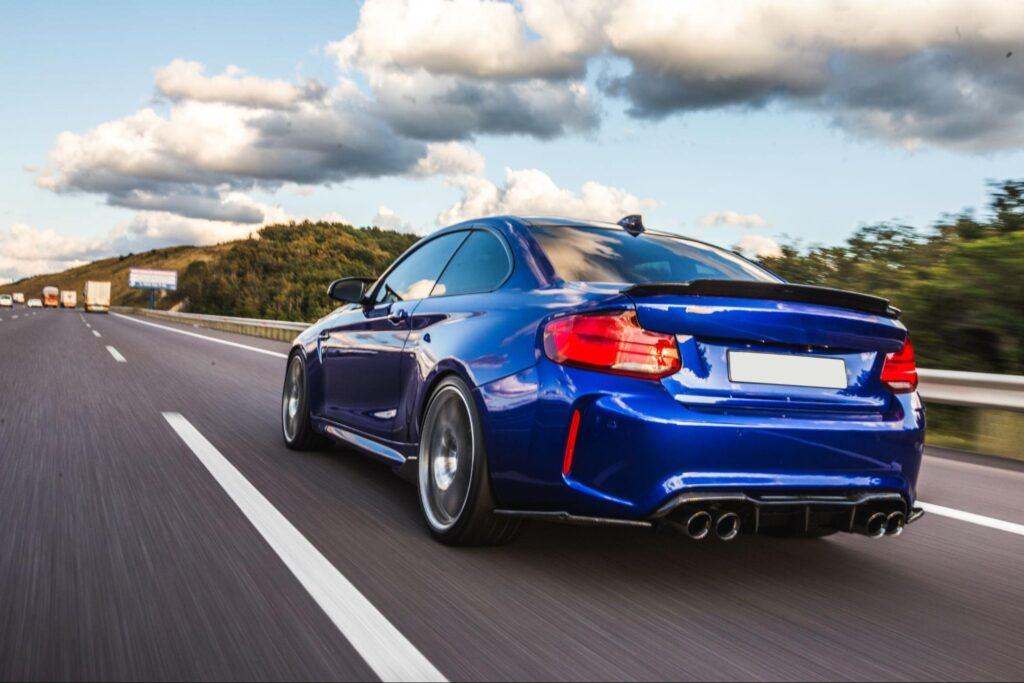 If you shoot low, you'll enjoy photographing sedans as well as sports cars with low ground clearance. These cars look bigger when lowered. This will wow potential clients. This shooting method has other advantages. You can avoid seeing your reflection in the car.
4. Shoot the World From Inside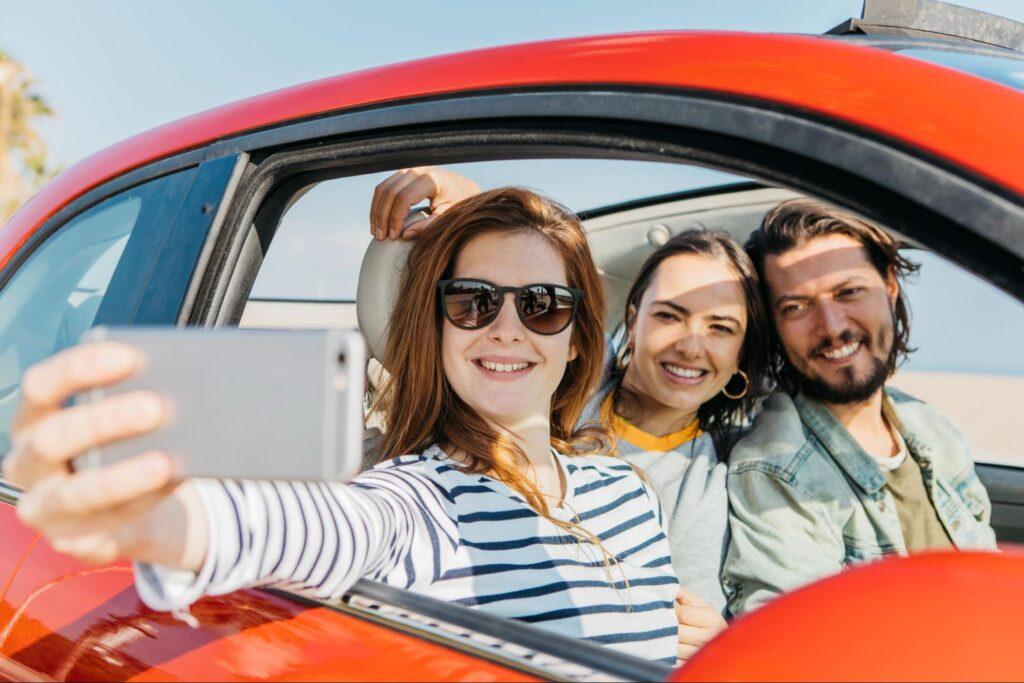 Shooting cars from outside is best. Shooting the interior is fun because car buyers see it every day. Your exterior photos must entice customers to enter. The view inside sells the buyer. Interior shots are crucial for this reason. Modern cars are loaded with features and make great photos.
5. Photographing a Moving Car
The best car photos capture motion. Focusing on a car part while it moves is the trick.
Use longer shutter speeds. At f/8 to 1/250, one's camera meters the scene. Drop your aperture to somewhere around f/11 as well as maintain one ISO as low as you can to broaden the shutter for such a motion blur shot. To compensate, the one shutter speed will lengthen, increasing exposure.
6. Nature Enhances Car Photos
Nature enhances car photos. Because cars have been intended to also be pushed on open roads, and nature is the most effective method for capturing the thrill and wind on your face. No rules apply. You can experiment and use your imagination. Capture the car's character.
7. Use Controlled Lighting Indoors
Indoor car photography is difficult. First, install artificial lights. Reflections from these lights cause havoc. Always use huge, diffused lights. Light from larger sources is softer.
Indoor car photography requires a complex setup. To avoid car body reflections, place your key lights directly overhead. White walls diffuse the key light, which fills the car's body. Established huge white backgrounds in 3 axes to make a car lightbox.
8. Shoot during the day
Going out in harsh, unflattering midday light. It will guarantee bad car shots and disappoint your clients. Instead, photograph cars a few mins after dusk. The light is smooth, and there's no straightforward sun, allowing you to capture an ethereal effect. Get the perfect warm glow on the paint with a tripod and remote release.
You also can shoot cars during the golden hours two hours before sunset and two hours after sunrise but direct lighting make it harder to create flattering images. To avoid shadows in close-ups, use a reflector.
9. Note the car's color carefully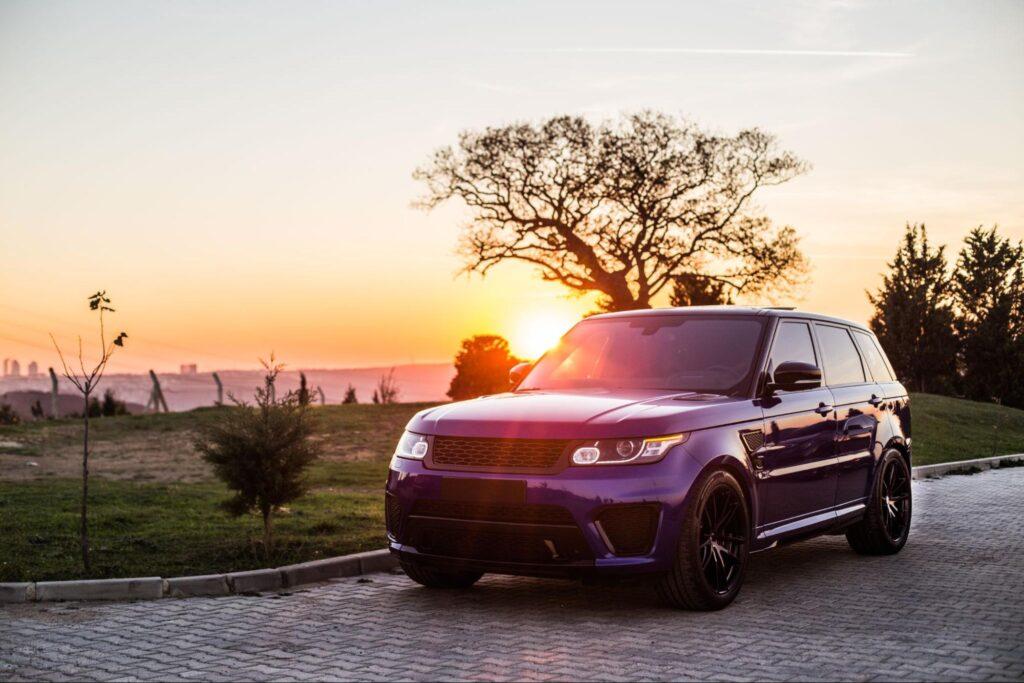 There is a noticeable difference in how various paints respond to shifting lighting conditions. Although I previously advised avoiding direct sunlight, some hues fare quite well in it.
10. Be selective when picking a backdrop
When taking a picture of a car, it's important to choose a background that will complement the subject rather than detract from it. However, bad backgrounds are eye-catching and don't fit the car's color, shape, or theme, so avoid using them. Garbage cans, power lines, and traffic can ruin a photo. Some of these can be edited out in Photoshop, but it's always quicker and easier to prevent them from showing up in the first place.
The best camera for car pictures
Several features are needed in a car photography camera. You need a fast, accurate autofocus system to capture moving vehicles. Fast continuous shooting is helpful too. These two features let you capture fast-moving cars in detail. High-resolution image sensors and interchangeable lenses are essential for car photography. Thus, you can use various focal lengths to take stunning photos.
1. Canon EOS R5 Digital SLR Camera
For taking pictures of fast-moving vehicles, the Canon EOS R5 is equipped with a fantastic autofocus system and a high-speed continuous shooting mode.
45 megapixels,
20 frames per second
Stunning visual clarity
Rapid AF system High cost
The Canon EOS R5 has a fantastic AF system, with 100% area coverage and 1,053 AF zones, making it ideal for capturing moving vehicles. The R5's continuous shooting function is also top-notch, allowing for either 12 or 20 frames per second (FPS) with the mechanical shutter or the electronic shutter, respectively.
2. Nikon Z7MarkII
The Nikon Z7 II's excellent image sensor, quick AF system, as well as image stabilization technology, make it a versatile camera for shooting automobiles in a variety of settings.
45.7-megapixel sensor
Integrated image stabilization
Each slot can accommodate two cards.
Expensive
When it comes to taking stunning photos of cars, both at rest and in motion, the Nikon Z7 II is among the best ones Nikon has to offer.
3. The Nikon Z6 Mark II
The Nikon Z6 II's robust AF system and 14 FPS constant shooting are ideal for shooting fast-paced car action.
A high-resolution 24.5-megapixel sensor
Possesses two card slots, doubling the amount of space you can devote to storing pictures
Minimalist yet fashionable exterior design
You can't turn the LCD screen all the way around.
Nikon seems to have the Z7 II as well as the Z6 II, and Canon does have the R5 as well as the R6. The Nikon Z6 II offers a more budget-friendly and user-friendly option available to the Z7 II, especially for beginners interested in automobile photography.
The Z6 II's 24.5-megapixel sensor is capable of producing consistently excellent photos. Its autofocus system may not be as cutting-edge as the Z7 II's, but it still boasts 273 points and several tracking modes. Having two card slots is great, as it allows you to use a variety of different memory cards.
4. Sony a1
Excellent for commercial vehicle tracking.
Incredible in every way, the Sony a1 is a top-tier camera with an excellent autofocus system.
Remarkable tracking features, and blisteringly quick continuous shooting speeds.
Incorporating a hybrid AF sensor with a resolution of 50.1 provides 92% coverage.
Shoot at approximately 30 fps in full autofocus and auto exposure.
Extremely costly
Sony's a7 III is a great camera, but the a1 takes things to the next level as the company's best full-frame mirrorless offering for automobile photography.
The superior BIONZ XR image sensor is a notable improvement. When combined with the 50.1-megapixel Exmor RS CMOS sensor, its incredible power allows you to take stunning pictures of moving vehicles.
5. The Canon EOS R6 camera
Compared to the Canon EOS R5, this same Canon EOS R6 would be a more wallet-friendly option that provides similar functionality.
Superb autofocus system, scoring 1,053
Powerful auto-focus tracking technology
Each slot can accommodate two cards.
Contains only a 20-megapixel camera
This full-frame DSLR camera is loaded with fantastic features, including a high-quality image sensor and autofocus system. It uses the same electronic shutter and can shoot at up to 20 frames per second thanks to its DIGIC X processor.
6. Fujifilm X-T4
Excellent for taking creative pictures of cars. The Fujifilm X-T4 is a great camera for taking unique pictures of cars because it has such vivid colors and a variety of cool filters as well as shooting modes to choose from.
A lens with a 26.1-megapixel sensor
Up to 15 frames per second in continuous mode
Allows the use of incredible Fujinon lenses
Some rival cameras have better autofocus performance
The Fujifilm X-T4 is a fantastic mid-range mirrorless camera that not only produces professional-grade photos but also has a sleek, attractive body that is styled in a way that evokes the aesthetic of classic film cameras.
Although it lacks a full-frame sensor, the X-T4 can easily capture high-resolution images when paired with any of Fujifilm's stellar lenses and its incredible 26.1 MP sensor. The Fujifilm X-simulation T4's modes are great if you enjoy taking photos of classic cars in a creative or retro style.
7. ark II Canon EOS M50
Perfect for snapping photos in the car. Compact and featuring a sophisticated autofocus and imaging system, Canon's EOS M50 Mark II mirrorless camera is a great choice for photographers on the go.
Superb autofocus system
Excellent 24.1 MP imager
Lean and mean
exclusively DIGIC 8 image processing
This is an affordable mirrorless camera that offers a variety of useful features and compatibility with a wide selection of high-caliber lenses. The 24.1-megapixel sensor and DIGIC 8 processor are found inside the Canon EOS M50 Mark II. It isn't the strong camera around, but it can still produce stunning photos.
It also has a great autofocus system, so you shouldn't have any trouble focusing on moving targets like cars.
You can take a wide range of pictures of cars with the Canon EOS M50 Mark II because it is compatible with both EF-M as well as EF lenses (though you'll need an adapter to use the latter).
---
The best places for car photo shoots
Depending on the setting for your car photo shoot, you might be able to come up with some creative ideas for the shoot. Take your time looking for a fantastic location if you want to shoot outside, which you should do if you want to do. Your vehicles should look great in the setting you choose for the shoot, regardless of the overall concept.
You need to choose the appropriate studio if you are going to be filming indoors. It should not be too distant from your lot; otherwise, you will waste both time and cash driving cars back and forth between the two locations.
Due to the presence of unwanted elements, the background of the photo is unlikely to be your driveway or street. You don't want distractions like a tree growing from your car's roof or other cars or houses in the background. Your best option is to choose a remote spot on such a country road or the far end of a vacant parking lot where it meets some sort of backdrop.
The best angle to photograph a car
The angles play an important role in car photography. Read the points very carefully to ensure the proper angles in your photographs.
The angle of focus is both the vantage point from which you shoot and the degree-based field of view of the lens you use.
If you're shooting on location or using a lens that allows you to view more of the scene, you'll have more room to work with in terms of lighting.
When deciding where to set up your camera, the viewing angle is as important as the angle of vision when considering how you want to frame the moving vehicle. Is the camera going to be at shoulder level, below shoulder level, or above shoulder level?
You should base your choices here on the aesthetic qualities you wish to highlight when describing the car.
One of the things I wanted to highlight about this beautiful Mercedes GT was its curvy rear end. To get a good shot of the car's rear end, I had to get up high on a staircase and use a relatively narrow depth of field.
Finding your perspective is a matter of taste. There is no correct answer. First, you must develop a feel for the car, then you can decide how best to highlight the vehicle's most attractive features.
A low viewpoint may make things appear more formidable and menacing, but there are also times when a more conventional viewpoint is warranted.
Best equipment for car photography
For professional equipment, it is best to choose configuration options for each shoot, even though the "automatic" settings on advanced DSLR cameras work brilliantly. However, for amateur photographers, it is fine to use the "automatic" settings.
When photographing stationary automobiles, the shallow depth of field achieved by setting the aperture between f/4, for a blurred background and f/8 is the most effective technique to employ (for clearer background). When photographing moving vehicles, such as cars, you should make use of a rapid shutter speed,1/125 is a nice choice; so that you can capture clear and distinct details. You will also be required to understand how to pan one's camera to keep up with the subject while it is moving quickly.
Additionally, the white balance, as well as ISO settings, should also be adjusted so that they are appropriate. But we've found that leaving them in the "auto" mode is the best option.
When taking pictures, use a high-quality camera.
No smartphone camera is capable of producing professional-grade photos.
The best choice is to rent or buy a DSLR camera equipped with appropriate autofocus features as well as manual edition options.
Obtaining the best possible shots of a car requires a camera, tripod, and lighting setup.
Car photoshoot price
The car photoshoot price varies from region to region. That's why we can assume some ranges of the car photoshoot price.
The going rate for professional automobile photographers is typically between $200 and $500 per hour. For photographers with more experience, the price per picture can range anywhere from $300 to $2,000.
Pricing options for professional photographers could include the following:
$300 For each hour on average, and on average, $800 for every four hours
The state in which you currently reside can also have an impact on the price range that you're looking at. You are free to employ a car photographer who meets all of your requirements and can do so within your financial means.
When compared to those other categories, the average cost of employing novice photographers is the lowest. You'll only have to pay $50 per hour to get automotive photography services.
On average, amateur photographers charge anywhere between $25 and $100 per hour for their services. You need to search for either an aspiring artist who has previous experience working with at least two different customers.
Car photographers inside the United States make approximately $3,000 per month on average on average.
In addition to that, it is dependent on the requirements of the client as well as the position of the photograph. When compared to rural areas, urban areas offer more financial opportunities for photographers.
---
Why Clipping Path CA is the best Car Photo Editing Company?
When looking for the best Car Photo Editing Company, look no further than Clipping Path CA. As a result of the flexibility it affords you, you're free to use whatever visuals you like for your products. Clipping Path CA provides a simple and affordable service. If you examine the steps:
✔️ Free Trial of Our Services Available
To ascertain the quality of our offerings, you are more than welcome to conduct an assessment. Once you click on the button to start your free trial, all you have to do is send us two or three images in addition to the instructions.
✔️ Seek an Estimate
If you have a question about the editing, send them an email. Within the next half-hour, a dedicated member of their team customer service will email you with the most cost-effective quote they can provide.
✔️ Set Up Your Task
You can give them the whole project, including instructions and uploaded images if you're happy with the quote's terms.
✔️ Images Available for Download
They will provide you with an email with a download link as soon as the postprocessing is complete. The image can be downloaded immediately upon clicking the link.
---
Final Thoughts for car photo shoot ideas
The art of photographing cars may appear challenging at first glance, but with the help of these illuminating pointers, you will be able to produce some breathtaking photographs of automobiles all on your own.

With the knowledge you've gained from this article, we hope you'll be able to improve the quality of your existing photo collection as well as take better pictures of cars in the future.
Therefore, before you go outside and begin shooting, select the method from the article that you enjoyed the most and read it.
---
Questions about Photoshoot for Cars
Can I take a photo of any car on the road or in the parking?
If you're in a public area in the United States where individuals have no right to privacy, you can take pictures of whatever you want.
What should I do when a stranger takes a picture of my car?
Nothing. In a public place, you can't expect to be alone.