Who doesn't like to keep the memories of his beloved ones? The best way you can keep the memories alive and evergreen is by capturing those moments on camera. Time passes, people change, but you can still hold onto the old days by looking at photos.
Family is probably the closest thing to anyone. The little moments of happiness, the minor bickering, random fights, unlimited lovely times that's what we all treasure so much. Don't you also want to frame them? If yes, we can help a little. We have got some unique yet easy to create family photoshoot ideas. We are sure that these ideas will help you to capture some precious moments of your life.
Are you ready to explore the ideas with us? Let's get started then!
---
21 Creative Family Photoshoot Ideas Only For You!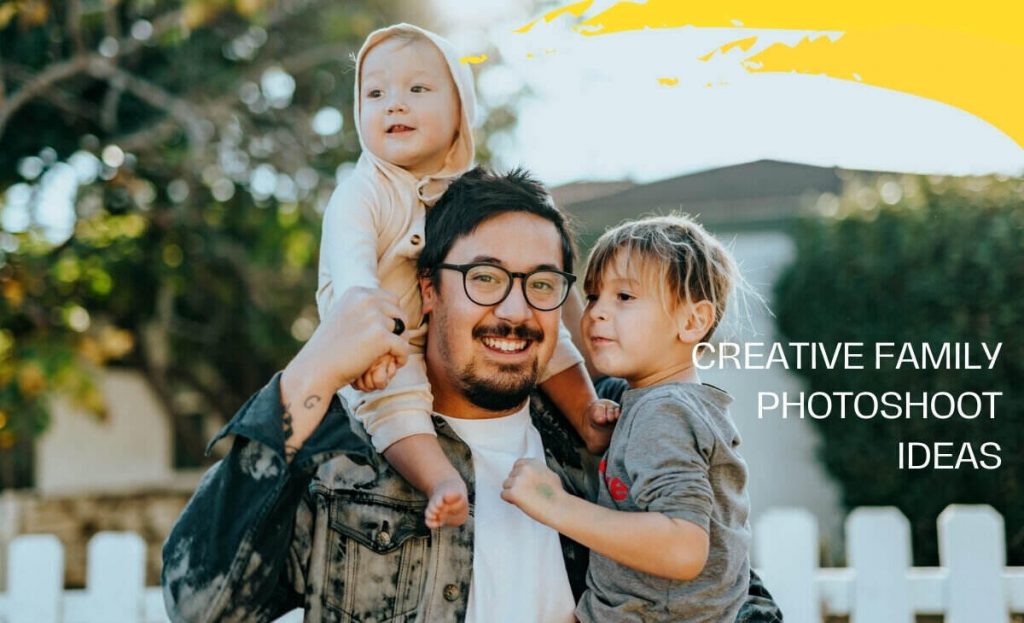 When we say photoshoot, a well-arranged studio with nice outfits, flashlights, nice backgrounds automatically clouds our mind. But is it necessary to be flashy in a family photoshoot? Well, not really. You can just comfortably sit in your drawing room with your regular clothes, and that can be a great natural photo.
Just like that, family photoshoot ideas can be easy and simple but creative at the same time. We have stored some ideas like that. Let's take a look at them, shall we?
1. Start With Something Natural
A family photoshoot doesn't have to be too formal or composed. Be natural, be yourself. Wear clothes that you usually wear at home. You can dress up too but not something too flashy. Do the stuff you usually do at home. Or do nothing. Just sit anywhere and let the photographer take some natural shots.
2. Relax On Your Bed
The most comfortable zone in the house is probably the bedroom for most of us. Why not use it to get some real comfy photographs? Relax on the bed with your family, cuddle together or make formation; that's up to you. But it can be an excellent prop to click on some lovely photos.
3. It's Okay To Be Messy
If you are not a clean freak, then I'm sure your house is more or less messy. And it's completely okay and cool to capture that messiness and frame it up. Is your kid scattering food everywhere? Instead of scolding him, grab a camera and capture that moment. Trust me; you will have something to laugh about when your kid grows up.
4. Who Said Kitchen Is Only For Cooking?
Turn your kitchen into a nice photo shoot area. You can pretend to cook something with your family members. It would be fun to turn your little one into a chef with a chef cap, right? Or you can take random positions in the kitchen and use it as a nice background.
5. Don't Leave The Kids Unattended!
If you are a parent, you certainly know how wild kids can be if they are left unattended. You take your eyes off for a moment, and God knows what mess they would make! But it's what makes their childhood enjoyable, right? Why not create a photo like that? As if your kid is going to do something mischievous in your absence.
6. Look The World From Little One's Eye
You will often see kids raising their heads to meet your eyes or see something that is on a higher level. Have you ever thought how things may look like to them? How about asking your photographer to take a shot from a lower angle and find out how the world looks from your little one's perspective?
7. Don't Forget Your Pets
Pets are undoubtedly a part of the family. While doing a family photoshoot, you can add them to the frame and make it more precious. If you have a kid, let him play with the pet. Capture the affectionate time together for a better picture.
8. Let The Elders Feel Affection
Elders are like that blanket that keeps you warm. In return, they don't ask much. A warm hug is enough to melt their heart. Show them your affection, love, and respect. Nothing can be more valuable than to grab hold of those moments and frame them.
9. Do Some Outdoor Photoshoot
Even though indoor family photoshoot feels more natural, it's a good idea to do some outdoor photoshoot too. Let nature be a part of your family photo. Or it can be a random wall too, whatever you like.
10. Have A Yard? Use It Wisely
Got a yard attached to your house? Why not use it to the most to click some fantastic family photos there? You can set up a mini campsite or a picnic zone and enjoy some lovely moments with your family along with clicking pictures.
11. Let Your Kid Have Fun
Yes, kids can be mischievous at times. But rather than restricting, let them have fun. Let them enjoy their childhood while you can grab a camera and capture those moments for them.
12. Save The World With Your Little One
As a kid, everyone has a fascination with superheroes. With those unique costumes and a concept of saving the world, they are admirable to kids. How about you turn into that dream superhero for your kid? It will be a good surprise for him and also can be a great photoshoot idea.
13. Take A Walk Together
As I said earlier, family photoshoot ideas don't have to be fancy. You can take a walk with your family in a park and let the photographer click some awesome pictures.
14. How About A Picnic With Your Family?
Every family once in a while goes for a picnic. Along with all the fun you do at a picnic, it can be a great opportunity to capture some marvelous happy moments with your family.
15. Make Festivals More Lively With A Family Photoshoot
Any occasion, any festival seems more when you have your whole family gathered together. Why would you miss such a great chance to click a perfect family photo? Line up with everyone and let the camera hold your whole family in a frame.
16. Kids And Their Masterpieces
Kids are not kids if they don't make trouble. They won't think twice before destroying something precious to create some masterpieces. For example, they may scratch your car just to say, 'I love you, dad!'. If your kid ever does something like that, don't forget to capture those times.
17. Affection Between Siblings
The relation between siblings is quite interesting. They can die for you, but trust me, they won't give you the large share of pizza. The sweet-sour relationship between siblings is a must to have a moment in a family album.
18. Travel Together With Your Family
Are you going on a family tour? Don't forget to bring the camera with you. Explore the new place with your family and click some photos to keep the memories evergreen.
19. Become A Fashionista!
Even though I said, family photoshoot doesn't have to be all fancy, but hey! You can dress up sometimes. Turn all of your family members into fashionistas for a day with the best outfits and have a celebrity-like photo shoot.
20. Go Seasonal With Family Photoshoot
Just like us, nature also changes its get up once in a while when a new season arrives. Let that change be a part of your family photos. Dress according to different seasons and click some awesome pictures with nature.
21. Capture Little But Sweet Moments
Family pictures are all about those sweet, little moments that you have every day with your family—for example, kissing your partner after a long, tiring day. Or maybe, playing with your newborn, helping your kid to have a bath. No matter how many unique family photoshoot ideas I give you, at the end of the day, these small moments will melt your heart like nothing. So, never miss a chance to capture something like that.
---
Final Words
Imagine yourself with an album in hand, reliving the old days you had with your family that your treasure so much. It indeed hits differently. Hopefully, the family photoshoot ideas we have gathered here will help you to create some splendid moments with your family members. We wish you to have a great time with your loved ones.