On Mother's Day, you should take the time to honor and thank the most important woman in your life: your mother. It could be a more thoughtful present for the woman who carried you or your children into the world than a collection of intimate photographs depicting the mother and her child.
The following are some suggestions for photoshoots for Mother's Day that will assist you in capturing the love that exists between a mother and her child. It's a win-win situation when you do a photo shoot for Mother's Day. Not only do you get to give your mother a gift that can't be replaced, but you also get to spend quality time with your family on the day that's meant to celebrate her.
What is mother's day photography?
Mother's Day is a holiday that honors mothers and is celebrated in many countries around the world. This celebration, which is held in its current form on the second Sunday of May, has its modern roots in the United States. The holiday is celebrated on this date in a great number of other countries as well, although some of those nations choose to do so at different times of the year.
On the fourth Sunday of Lent, also known as Laetare Sunday, it became a common practice to let people who had relocated to other areas return to their former parishes and pay a visit to their mothers on that day. This custom originated during the Middle Ages. This day was later commemorated as Mothering Sunday in the United Kingdom, where the celebration has persisted into the modern era. However, Mother's Day has largely taken its place as the most important holiday honoring mothers.
This day is special for mothers. Photography for Mother's Day on Mothering Sunday should be devoted to celebrating the women who gave birth to us. Taking some stunning family portraits together is a wonderful way to show appreciation for the mother figure in your life. This is the kind of gift that she will remember fondly for the rest of her life.
This Mother's Day is the ideal occasion to ensure that you are included in the family photographs. A photo session with your children will transport you back in time every time you look at it, and those pictures will always bring back memories of how they looked when they were just newborns. Taking pictures of the love that exists between you and your young children is extremely important. Having the ability to capture such lovely moments is something that will mean a lot to your mother.
Guide on mother's day photoshoot ideas at home
Memories
Portrait of Multiple Generations
Coordination
Photosession with the family
Photoshoot with the newborn
Flower Crown Photoshoot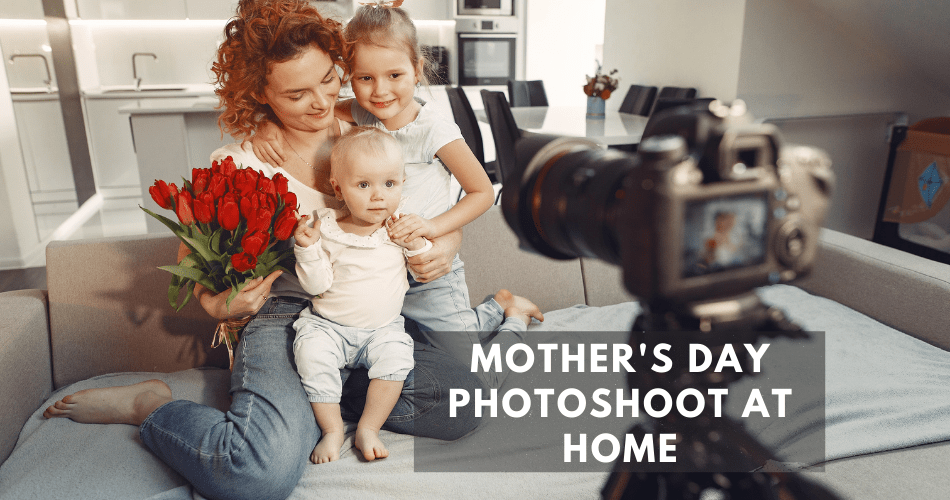 ① Memories
Creating artistic reproductions of childhood photographs with mothers can be a beautiful way to represent the transition. It is one of the best photo ideas for mother's day.
The concept of recreating photos from one's youth and posting them online has recently become extremely popular. It is also one of the most heartwarming ideas for a family photo because it will undoubtedly arouse feelings of melancholy and cause you to reflect on happier times when life was less complicated.
Therefore, remove the old photo albums from their storage and sort through them to find the ones that are either the most humorous or the most meaningful to you. Keep in mind that the impressiveness of the shots directly correlates to the amount of attention paid to the details. Make an effort to recreate not only the pose but also the location, as well as the outfits and expressions on the faces of the subjects.
② Portrait of Multiple Generations
A multi-generation portrait is another mother's day photoshoot idea. Taking a picture of multiple generations of a family together is a wonderful idea for a Mother's Day photograph because it will bring warmth to the viewer. You will gain a better understanding of the parallels and distinctions between the two of you as a result of doing this. Your family will treasure such a photograph for many years to come, and it will be an attractive addition to the decor of your home.
When considering how to pose your family for a portrait during such a shoot, you might want to try to replicate the picture that is shown above, which shows the people's faces in profile. Renting a studio or filming in a large open area outdoors at night would be the two options that would provide the least amount of logistical challenges in this scenario. Aside from that, all you need is a single large softbox that you can place in front of the subject and to the side of the subject.
③ Coordination
Outfits that complement one another can be a good mothers day photoshoot idea. Putting on an appearance that is congruent with one another is an excellent way to highlight the closeness that exists between you. Dresses, suits, and ties, as well as more casual clothes, can be paired together depending on your sense of style and preferences in the realm of fashion. Because of this suggestion, you won't have to worry about coming up with ideas for family photo outfits or about the colors being well coordinated with one another.
④ Photosession with the family
No rule says Mother's Day has to be all about mom and her kids. There are times when the whole family needs to get together. You can take your mother by complete surprise with this photoshoot session on Mother's Day.
⑤ Photoshoot with the newborn
The first Mother's Day you spend with your newborn is a special occasion, but it takes on added significance because it is dedicated to honoring the amazing and selfless women in our lives. It's mom's special day, so treat her to breakfast in bed, a slew of presents, and maybe even a photo shoot with the newborn.
Take a picture of mom holding baby while your other kids give her a Mother's Day card if you have more than one child. Take pictures of her reading. Put up a banner saying, "Happy Mother's Day!" Take pictures of your child and his or her mother with the banner.
Before you take the picture, use baby-safe paint to turn your newborn's footprints into a heart. Use this cute heart as your mom's Mother's Day card, and be ready to record her reaction.
Bring your dog to an outdoor or indoor Mother's Day picnic. Take a picture of a mom giving your dog a treat while holding the baby. The baby should be looking at the furry friend.
⑥ Flower Crown Photoshoot
Flower crown photoshoots aren't going away, which is great because they make beautiful mom-and-baby photos. To capture a sweet, intimate moment, put flower crowns on mom and baby while she's holding them.
Guide on mother's day photoshoot at the studio
The use of black and white in photographic images
Unhurried and unafraid to be honest
Photographic documentation of a glamorous maternity session
Pregnancy photo shoot in a flower field
Close-up of a baby bump
Touch-ups
Keep yourself hydrated.
Look your best by coordinating your attire.
Have Fun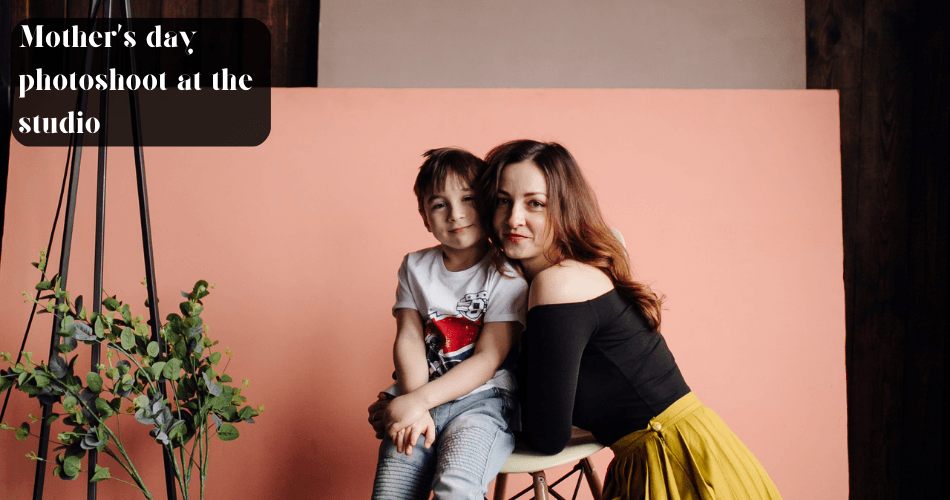 ① The use of black and white in photographic images
In the year 2022, black-and-white photography will continue to be a popular choice for photographing babies. This results in a very stylish and uncluttered appearance, and these photographs make for a very chic addition to the interior design of a home while also avoiding the appearance of becoming dated in the years to come.
② Unhurried and unafraid to be honest
Although many mothers will want some more polished portraits or a mix of staged and candid shots, the candid style of photography is becoming increasingly popular for use with mothers and babies. There has been a recent uptick in the number of mothers who are conceptualizing their photography shoots around the idea of portraying themselves in intimate, 'at-home' settings with their children, such as bath time, lying in bed with the infant, or even nursing.
③ Photographic documentation of a glamorous maternity session
Make the most of the occasion of Mother's Day by treating yourself extravagantly and giving the impression that you are worth a million dollars. For their maternity photos, expectant mothers may want to feel their most fabulous by getting their hair and makeup done, donning a flowing gown, and getting their pictures taken.
④ Pregnancy photo shoot in a flower field
Because spring has finally arrived, this is the ideal time to strike a pose in the middle of a flower field. The flowers that are blooming all around you will be the perfect complement to your expanding baby bump, just as your pregnancy is reaching its full potential.
⑤ Close-up of a baby bump
The act of getting their baby bump photographed up close and personal is something that a lot of women who are expecting find to be an enjoyable way to memorialize their time spent pregnant. If you already have other children, having a photo of them placing their hands on your pregnant belly can be a very special and meaningful moment to look back on.
⑥ Touch-ups
At your convenience, please bring the following items to the shoot:
Makeup for finishing touches
Paper for Blotting or Oil Containment Film to remove excess oil
Use a lip gloss or lip balm to keep your lips moisturized.
Apply some cream to your hands, arms, and legs whenever they feel dry.
Accessories for the hair, such as a brush, bobby pins, clips, and so on.
⑦ Keep yourself hydrated
It is not advisable to perform a photoshoot while one's stomach is empty. Bring along a bottle of water, some juice, and/or some snacks that are on the healthier side.
⑧ Look your best by coordinating your attire
It is not at all inappropriate to dress identically for a photograph taken of a mother and her child if there are two of you in the picture. When it comes to matching four people or more, having everyone wear the same outfit can be visually overwhelming and draw attention away from the lovely faces being showcased.
Choose a color to serve as the focus of the outfits, and then center your color coordination efforts around that hue.
Accessories and Props You are more than welcome to bring any accessories and props that you feel will enrich both your narrative and your photographs.
Toys or stuffed animals for the children are always appreciated.
Items such as hats or clothing that represent you
⑨ Have Fun
You are the center of everyone's attention today. The most important thing is to make sure that you don't forget to laugh and take advantage of the priceless time you're spending with your loved ones, and that's exactly what you should be doing right now. It's best just to laugh it off and focus on what's happening right now rather than dwelling on what might have been.
---
Why is Clipping Path CA the best option for editing your Mother's Day photography photos at a low cost?
Clipping Path CA has established a name for itself on the international stage by becoming a leader in the fields of outsourcing and highly skilled image editing. Every image needs to have a few adjustments made to it. The change creates the impression that the photographs were taken with equipment of a significantly higher quality than what was used. For Mother's day, a photography guide will be even more helpful once clipping path CA is implemented. Clipping Path CA is the organization that is in charge of handling this.

✔️ Providers of services that are simple to navigate
If the work that has been completed meets your expectations and you are pleased with it, then you can give us the go-ahead to complete the remaining aspects of the project. To ensure that we can meet your deadline, we will get started on your assignment right away.
✔️ Make an Effort! Unquestionably Without Cost
Fill out the "Free Trial" form that can be found on our website and send us some sample images if you are interested in testing out our services. It is possible to send in several images in a relatively short period. The upload process for our demo version is very straightforward and only takes a short amount of time to finish.
✔️ When do you anticipate taking the photographs?
Within the allotted amount of time, your photographs will be delivered back to you. You only need to save the images to your computer to obtain them. Be sure to let us know if any additional alterations need to be done if there are. We will take care of any painting repairs that need to be done.
✔️ The promptness with which one responds to situations
Our response time is quick. As a result of this, you should look out for an email response from us within the next 15 minutes at the very latest. The following step requires you to send us the photographs that you would like us to edit for you. You are more than welcome to request a trial period with us even if you initially do not have full faith in our capabilities. Send us a few examples of your work along with detailed instructions if you would like us to edit your photographs. After that, you will decide whether or not you believe we are capable of achieving our goal.
✔️ Command and regulation of time
We recognize the significance of upholding both your reputation and the responsibilities that you have accepted, and we are grateful for the efforts that you have made to do so. Because of this, we will be able to accomplish what we set out to do. You can be confident that Clipping Path CA will complete your project to your utmost contentment.
✔️ Communication
When it comes to producing high-quality work, we believe that effective communication is necessary. Because this is the case, we believe that it is of the utmost importance to maintain open lines of communication with the demographic that we are trying to reach at all times. To better understand their point of view and the strategy they intend to employ to convey the picture. When you have a firm grasp of how people think, editing becomes much simpler, and revisions can be made much more easily.
If you don't like the edits that we made, feel free to make as many changes as you think are necessary. If the updated version does not meet your expectations, we will perform the task once more.
In fine, we can see that mothers day is one of the most important days when we can show our gratitude towards our mothers. In this case, the mothers day photoshoot can be a nice idea to make your mother feel overwhelmed. To conduct a successful photo shoot, follow this article's guidelines.