Are you looking for a way to quickly and easily remove the background of an image? Background remover websites are a great way to quickly and easily remove the background from images without the need for expensive ones. In the process of post-production work, the technique of removing backgrounds from photos is the one that is used most frequently. By employing this method, photo editors can enhance the appearance of photographs by removing unwanted and unneeded objects and elements from the images they work with. This helps the pictures stand out more.
The subject will remain the primary focus of a portrait with ease if the background is kept simple; however, experiences with a lot of detail can help tell a story. You can find your desired top 10 background remover websites in this article. So why are you waiting? Give this a read to choose your service provider!
What is Background Remover & Background Remover Website?
The process of "Background Removal" from an image involves cropping out any unnecessary elements and leaving only the subject in focus.
When this happens, you're left with a blank, white background. Many of the most well-known online marketplaces insist on white backgrounds for product photos. With the help of the background remover, you can single out a specific part of a photo and make the rest of it transparent, allowing you to use the image in a wide range of contexts.
Background removal websites can be mentioned as those services which help you in the process of background removal.
This service can be carried out either manually or automatically. Continue reading to find out which one is going to be more helpful for you.
---
Manually vs Automatically Background remover services
The services of Background Remover can be both manual and automatic. But there is a difference between these two. Let's look through them with a table:
| | |
| --- | --- |
| Manually | Automatically |
| Professionals create hand-drawn manuals | Technology removes image background |
| Hand-drawn services are accurate | AI doesn't understand the needs thus it can't act on that |
| This one is a bit time consuming | This service is quicker than the manual one |
| Here the quality is ensured by the professionals | Here the AI generates the design it can't change according to your choice |
| The user has control over the image | The user has no control over the image |
---
Benefits of Using Background Remover Websites
There are many benefits of using background remover websites. If we point out some-
Improving one's images.
The image's quality should be maintained to the greatest extent possible.
To sell products on Amazon.com.
Shrinkage of the file size Improvement in the representation visually
Improve the overall experience for the user.
Greater potential for financial gain through sales.
enables concentration by removing obstacles.
---
Best 10 Background Remover Websites
If you want to get rid of unwanted backgrounds quickly and easily, then this section is only for you. Find out the best 10 background remover websites and choose the best option for you!
1. Clipping Path CA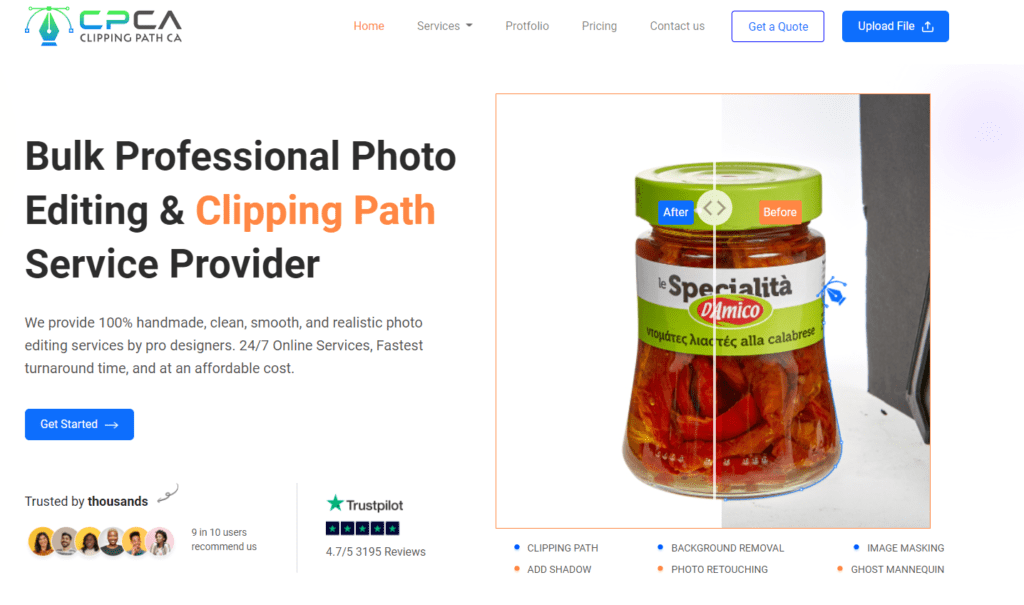 Clipping Path CA is the number one hand-drawn background removal service. Clipping Path CA offers you the-
Pure handcrafted, clean, perfect, and realistic images
Performed by expert designers.
24/7 Online Support
High-quality service
Quickest turnaround time
Most reasonable price
30% off for bulk orders.
They meet deadlines
Offer full support every day
Have 6 years of professional work experience.
You can take advantage of their free trial.
Any number of revisions
Here the background remover works by human touch. You can easily mention what type of image editing you are looking for. In this way, your images are always made ready by your choice. Graphic design as well as image editing make image editing easier. Modify size, coloring, and background, and erase creases and unwanted parts with mouse clicks but retouching can improve photos, thus Clipping Path CA helps you over here. Photoshop editing isn't for everyone. Then what? You can use their services because of their professional Photoshop services to make your photos appealing, charming, and fascinating.
The process of Background remover is:
✔️ Select
Choose an image in which the subject seems to have clear edges and there is no overlapping of any kind for the best possible results.
✔️ Remove
Simply upload your picture to have the background with the help of professionals.
✔️ Download
Download your newly created image as either a PNG file that has a background that is transparent so that you can save it, share it, or continue editing it.
2. Remove Background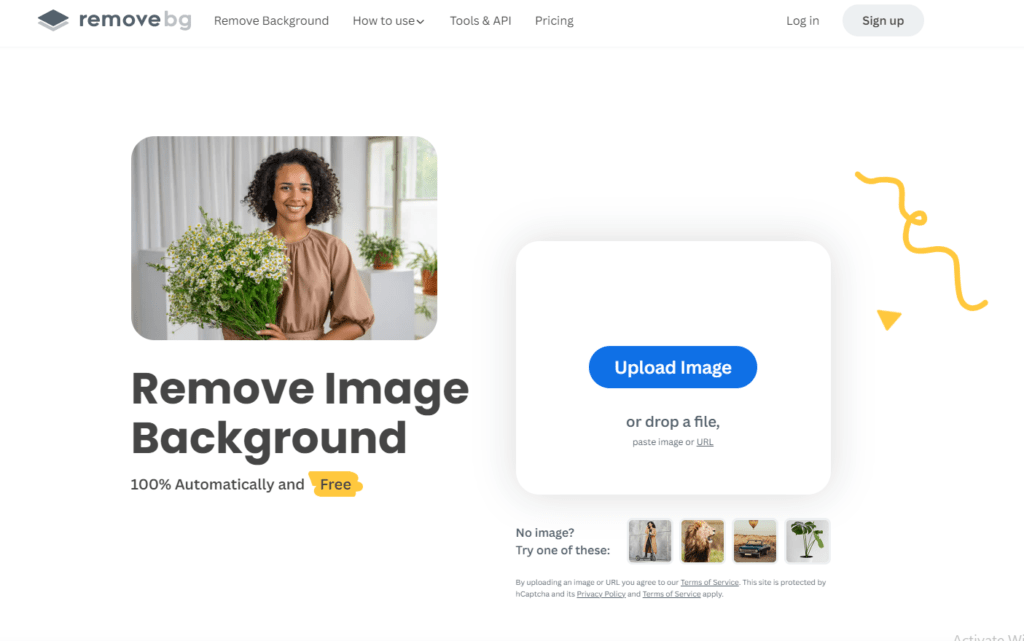 Remove background works with the help of AI. They allow you to get quick images.
Remove backgrounds completely automatically in five seconds with just one click using the assistance of AI.
They have developed tools and plugins that are compatible with some of the most well-known design programs, eCommerce platforms, and computing environments.
They utilize API so that your workflow can become more digitally efficient.
3. Adobe Express
You can quickly remove the backgrounds from images, but then just edit them in Adobe Express, which allows you to add different backgrounds, graphics, and much more.
With the help of this background remover app, you will be able to single out the subject of your photograph and generate a transparent background. This will enable you to insert your newly created image into a wide variety of fresh layouts and locations. Your subject will appear to be in a completely different environment if you put it against a colored background as well as add a new background.
The background can be removed from a picture more quickly than ever before. In an instant, your image will be available to download and share after going through this process. Publicly release your image for one's audience to appreciate across all of your social media channels, or proceed to edit it wonderfully within Adobe Express.
4. Erase BG
You can use this site to remove the background from pictures of people, animals, or objects, and you can also download high-resolution photos for free here. You need only drag and drop an image as well as paste the URL of the image you want to remove, and the remaining part of the website's tasks, including removing the background, will be completed automatically.
Using the powerful editing, resizing, and exporting tools that are available on this page, you will be able to remove the Background from profile pictures, graphics for social media platforms, electronic signatures, company logos, and more.
5. PhotoRoom
This website uses artificial intelligence to generate a background image remover that works in three stages. You should begin by choosing an image to work with. By clicking on the "Start from a photo" option, you can select the picture whose background you wish to remove. PNG and JPG are both acceptable formats for your images.
The removal of the background would be the second step. Your image will have the background removed automatically when you use their tool. Next, you'll be able to select a color for the background. Although white as well as transparent backgrounds seem to be the most common choices, you are free to select any color you like.
The downloading of your image is the third step. After selecting a different background color, all that's left to do is download your picture, and then you're finished. If you create an account in the PhotoRoom app, you'll also have the option to save your picture there.
6. Fotor
Their artificial intelligence (AI) background remover can instantly identify the subject in any photo and remove the background in a soft cutout manner without any manual labor.
The AI-powered tool makes it simple to handle complex edges, hair, and animal fur in a matter of seconds. Make a transparent PNG of excellent quality or give the image a white background to save time and effort.
One click completely automates the removal of backgrounds. For your various projects, including design software, eCommerce platforms, as well as social media that you need to remove background from, they have built background remover online.
Their background eraser is accessible on Windows, Mac, as well as mobile devices as well. Download their desktop application, or eliminate the background from the camera app, drag and drop an image to receive an AI-powered cutout automatically whenever and wherever you are, and improve your workflow effectively.
Fotor's excellent AI technology is enhanced by its photo editing tools. enables quick removal, and color changes for the photo's background or background replacement. Add photo effects, clipart, and text to the image. Edit the foreground using our clever background remover tool. Create beautiful designs using our library of free templates. To continue editing, save the photo in PNG format with a transparent background.
7. PicWish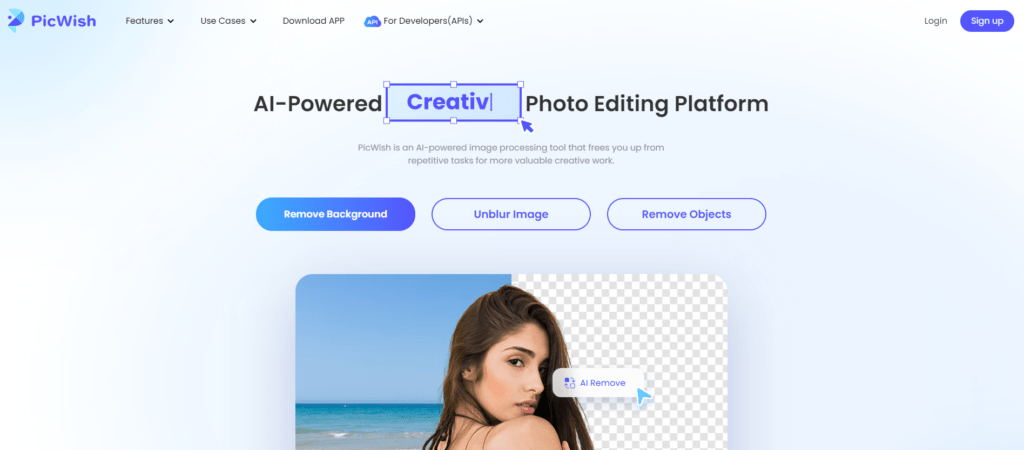 PicWish allows you to make any image transparent by removing the background. Their clever artificial intelligence was trained on millions upon millions of images taken from the real world.
It can automatically manage almost everything in complex backgrounds in three seconds.
They view it as something more than merely a background cleaner.
Choose a background that is either a solid color, a pre-designed template, or one that you have designed yourself.
You can immediately edit backgrounds for no cost at all, saving both time and money in the process.
PicWish is prepared to help you bring your ideas to life, free your imagination, and realize the full potential of your business.
8. Slazzer
Slazzer takes out the backgrounds completely. Instantaneously and in a matter of seconds only. Their background remover works online and can instantly identify the subject of any photograph, providing you with a clean and precise cutout of the subject.
Because their artificial intelligence can handle hair, fur, or indeed any complicated edges in a matter of seconds, you can save an unbelievable amount of time by using it.
Install their application software to be able to drag as well as drop hundreds of thousands of images simultaneously. Simply clicking "Start" will initiate the process of cutting each image out automatically.
Improve your productivity by removing the backgrounds of multiple images to obtain thousands of AI-powered cutouts that can be used for any of your design projects.
9. Removal.AI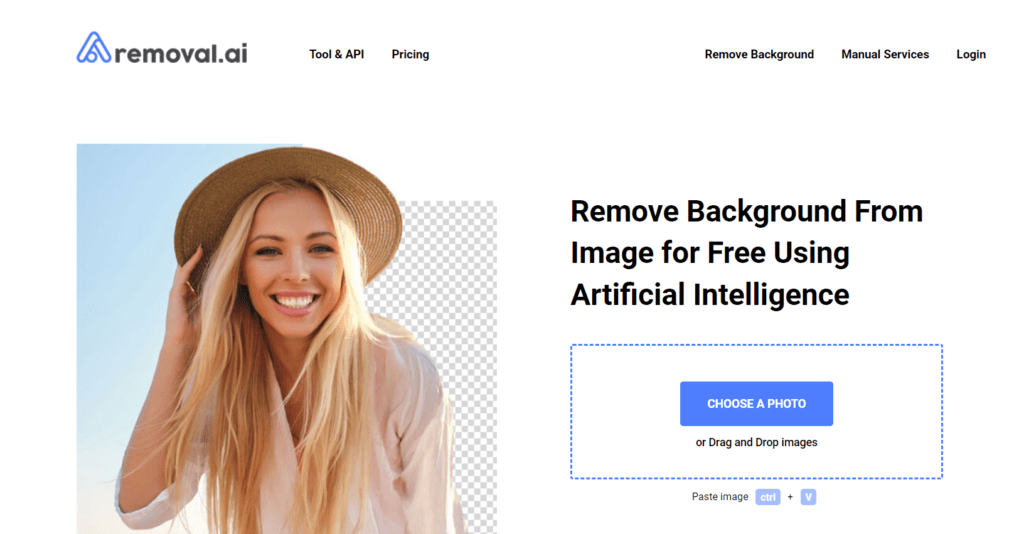 Instantly generate an image with a transparent background and transform your photos into works of art, stunning banners, visually engaging presentations, product catalogs, and graphics. Completely adaptable to fit your requirements. The Photo Editor tool that they provide is a significant value addition to our cutting-edge AI technology.
Images with a transparent, white, or user-specified background can be obtained in three seconds or less completely free of charge.
Identify subjects in photographs in an automated fashion.
Clean, unobscured, and unbroken cutout edges
You can process more than one thousand images
Remove and make a new background choice quickly
Include texts as well as effects
Manually edit the foreground using the eraser tool for the background
Adjustable defaults to accommodate a variety of markets
10. PhotoScissors

In just a few clicks, you can change the site's background to a solid color, a transparent gradient, or an image. If you need to quickly remove a background from an image or cut out such an individual or an object to drag and drop into another image, PhotoScissors will come to your rescue. Creating a flawless video clip doesn't require any special abilities or expensive software. Once the image is uploaded, their algorithm will instantly remove the background utilizing deep neural networks.
Removing the background from a photo is a common step in the editing process. PhotoScissors can be used for a wide variety of purposes, including but not limited to creating photo jokes as well as collages, touch-up vacation pictures for fun or even to improve an impression, uploading product photos to eBay or Amazon making preparations photos for seeking employment as well as dating internet sites, substituting a dull background with a greater picturesque one, and so on.
Why should you choose Clipping Path CA?
Clipping Path CA is the best choice for background remover services. It allows you the freedom of choice with your products, and for this reason, you have full control over your images. The service of Clipping Path CA is very easy and reasonable. If you look at the procedure:
✔️ Try Out Our Services for Free
You are welcome to an evaluation to determine the caliber of our services. Simply send us 2 or 3 images along with the instructions after you click the button to begin your free trial.
✔️ Get Your Quote
Send them an email with your question about the editing. Within the next half an hour, a member of their committed customer service team will send you an email containing the most competitively priced customized quote.
✔️ Order Your Project
If you are content with the requirements of the quote, you could indeed give them the complete project along with the instructions as well as upload your images.
✔️ Download Images
As the image processing is finished, they will send you an email containing a link to download the file. Simply clicking just on the link will initiate the download of the image file for you.
---
Conclusion
In this article, information has been gathered from research on the 10 best background remover services. These services can be both manual and automatic. But the research shows that the hand-drawn services gave more positive output than the automatic ones. AI tools have their limitations; they are prone to making mistakes and are unable to comprehend the requirements of humans. As a result, performing tasks manually is almost always preferable.
---
Questions about Background Remover Websites
What is the best background remover website for manually?
Clipping Path CA is the best background remover website for manually. Because it gives you professional touch and unlimited revisions.
Do I remove an image's background for free?
Yes, you can. But those AI tools don't work by your choice. They don't understand your need.